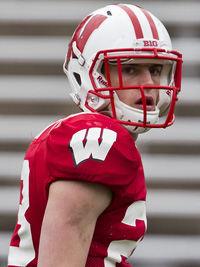 Austin Hudson Transferring From Wisconsin
Sophomore defensive back Austin Hudson has decided to transfer away from Wisconsin and closer to his home. He hails from Tampa, Florida, but there is no indication which school he is transferring to. Hudson is waiting on that school to announce his transfer.
"I have nothing negative to say," Hudson told BadgerNation. "It was a journey I needed to make to understand where I belong and Wisconsin just wasn't the right fit. Football wise it may have been but in terms of what I idealize, the school itself wasn't the right fit."
"The new staff was great," said Hudson. "It had no effect on me leaving … It was more of a family thing why I wanted to leave and just a culture thing. I just never fit at Wisconsin."
Hudson played in all 14 games in 2014 as a freshman. He had 19 tackles including a sack and a forced fumble. The sack came against Nebraska while Hudson recorded a career high 4 tackles against Maryland.
While Hudson was expected to see more playing time in 2015, the loss will not hurt too much with the amount of depth present. Quarterback/defensive back/wide receiver Tanner McEvoy will have snaps at both receiver and defensive back this spring. Wide receiver Natrell Jamerson is also moving to cornerback for the Badgers.
Safeties Michael Caputo and Lubern Figaro return from last season where they were both starters at the back end of the secondary.