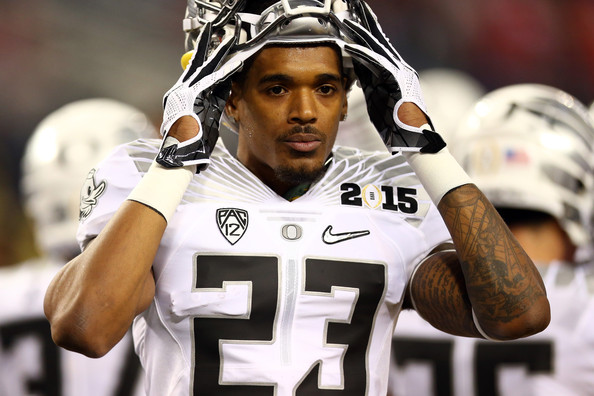 Two Oregon Players To Transfer
The Oregonian is reporting that offensive lineman Jamal Prater and wide receiver B.J. Kelley will not be back for 2015 and have decided to transfer. Both were backups at their respective positions.
Prater, a senior from Etiwanda, California did not see much playing time in his career at Oregon. He played in a total of 9 games between 2012 and 2014 with last season his most extensive playing time with 5 appearances.
Kelley, also a senior, hails from Fresno, California. As a redshirt freshman in 2011, he caught 6 passes for 103 yards and 2 touchdowns while playing in 11 games. In 2013, Kelley had 1 catch for 13 yards in 8 games and also returned 2 punts for 53 yards. Last season, Kelley played in 5 games, but had no catches. In all, Kelley had 7 catches for 116 yards and 2 touchdowns.
"A lot of times I could have had an opportunity and I felt like I just didn't get it," Kelley said in a phone interview with Andrew Greif of The Oregonian. "I don't regret being here at Oregon. There will never be another opportunity from what I've experienced. They can never take that back."
"I'm kind of sad it didn't work out the way I wanted," said Kelley. "I just wish it stayed on the course it was on for a little bit."
There is no word on where the two players might transfer to. Kelley has talked to FCS Programs according to Greif, but nothing definitive has come of the talks. Kelley would be eligible to play immediately at an FCS school.
Five other players have chosen not to come back in 2015 for the Oregon Ducks. They are offensive lineman Andre Yruretagoyena, wide receiver Chance Allen, defensive back Stephen Amoako, defensive lineman Sam Kamp, and defensive back Isaac Dixon. Yruretagoyena and Kamp decided to retire while the other three transferred out of the program.
Oregon starts spring practice on Tuesday.