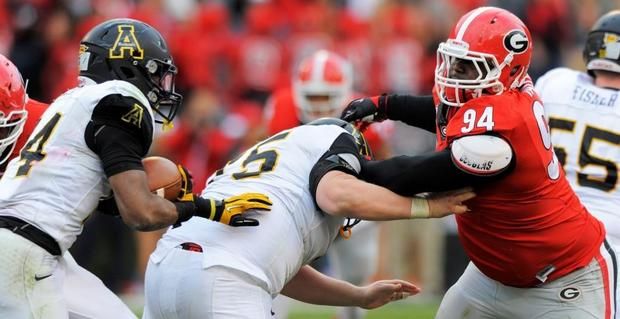 Alabama DT Jonathan Taylor Arrested
Alabama defensive tackle Jonathan Taylor has been arrested for domestic violence and criminal mischief according to Cecil Hurt of the Tuscaloosa News.
This is not Taylor's first time in trouble and he was arrested before on domestic violence charges in July 2014 while a member of the Georgia Bulldogs. That incident facilitated his exit from Athens and he eventually ended up at Alabama as one of Nick Saban's "second chance" signees.
The following is a statement released by Alabama regarding the signing of Taylor:
"Jonathan Taylor was admitted to The University of Alabama following the same procedures that the UA Admissions office uses to evaluate any student who has dealt with legal issues. The admissions process includes representatives from academic, legal, student affairs, student conduct, UAPD and counseling. Athletics is not involved in the admissions process. Taylor's continued enrollment depends on his ability to fulfill all requirements the University has specifically mandated for him during his time as a UA student."
As for this most recent incident, Taylor is in jail on two $500 bonds. Below are the details of the incident, per ESPN:
"According to an incident report, police officers responded to a call near Alabama's campus to speak with a victim who told police she was assaulted by her boyfriend at approximately 6 p.m. on Saturday.
After speaking to the victim about an altercation that took place at her residence, officers located the suspect at the victim's residence and spoke to him about the incident. Officers found probable cause to arrest the suspect.
The 24-year-old victim had minor injuries to her neck from the assault, according to the police report. The officer also noted in the report damage to a bedroom closet door with a hole punched in it."
As a Georgia Bulldog in 2013, Taylor played in 10 games and recorded nine stops. He also had 1.5 tackles-for-loss and a sack. He redshirted in 2012 as a freshman in his first year at Georgia.
Taylor's arrest marks the second time an Alabama player has been arrested this past week. Previously, defensive back Geno Smith was arrested for DUI on early Saturday morning.
Update 11:14 AM EST: Alabama is aware of the incident regarding Jonathan Taylor.
Deborah Lane, associate vice president for university relations, released a statement Sunday morning saying: "UA is aware of the incident. The student has been referred to Judicial Affairs."
Update 2:43 PM EST: Nick Saban has kicked Jonathan Taylor off the team in light of his arrest.
"Jonathan Taylor has been dismissed from the team and is no longer a part of our program," Saban's statement began. "This will still need to go through the legal process, but when he was given an opportunity here, it was under strict guidelines and we made it clear there was a zero tolerance policy."