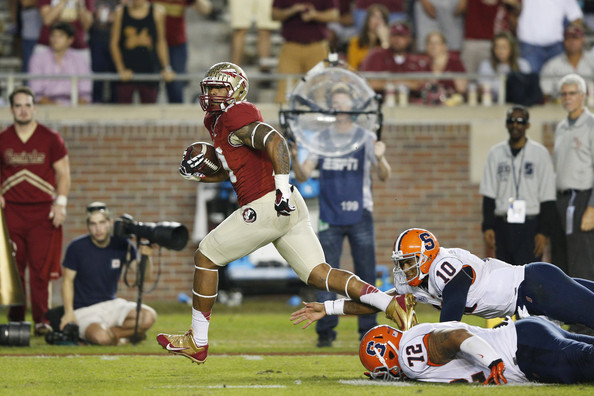 Florida State Loses Two Linebackers For Spring
Linebackers Chris Casher and Matthew Thomas will miss the rest of spring practice due to shoulder injuries. Head coach Jimbo Fisher confirmed the news on Friday.
Casher has already had surgery performed on his shoulder while Thomas will undergo surgery in the future.
"Matthew's got a separated shoulder, probably gonna have to have surgery," Fisher said. "It's too loose. We're gonna have to end up fixing it."
"Chris had the shoulder. Chris had shoulder surgery, he won't be out here all spring. He had off-season shoulder (surgery) right after the season, so he won't be ready until after."
Casher played in 13 games last season finishing with 28 tackles, 3.5 tackles-for-loss, and a sack. In 2013, Casher played in 12 games, recorded 25 tackles, 5 tackles-for-loss, and 2 sacks. In 2012, Casher recorded one tackle, but he was injured and then redshirted the season. He will be a redshirt junior in 2015.
Thomas, who has a history of shoulder issues, will be a redshirt sophomore in 2015. He appeared in 8 games in 2014 with 26 tackles and 2.5 tackles-for-loss. He missed the first five games in 2014 due to a violation of team rules. In 2013, Thomas played in the first five games with 4 tackles, 2 tackles-for-loss, and 1 sack. He missed the last 9 games due a shoulder injury, which also required surgery.
The Seminoles wrap up spring practice on Saturday, April 11.