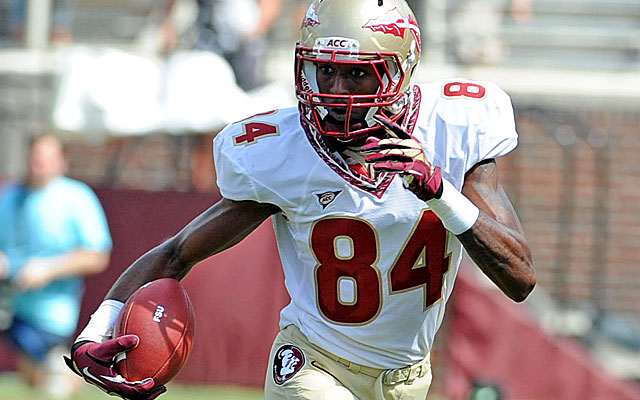 Isaiah Jones To Transfer From Seminoles
Wide receiver Isaiah Jones will not be a member of the Florida State Seminoles in 2015. Instead, he will transfer to East Mississippi Community College according to head coach Jimbo Fisher.
Jones missed the entire 2014 season after being declared academically ineligible, but he still practiced with the team throughout the season.
As a freshman in 2013, Jones played in 5 games tallying 2 catches for 31 yards and his season ended early with a foot injury. Jones would have been a redshirt sophomore in 2015.
Despite the transfer of Jones at 6 foot and 5 inches plus the loss of Rashad Greene, there is still a deep receiving corps for the Seminoles. Ermon Lane, Travis Rudolph, and Jesus "Bobo" Wilson are expected to start at receiver, but Florida State also has George Campbell, Da'Vante Phillips, and Auden Tate arriving on campus in the fall.
Lane had 13 catches for 267 yards and a touchdown as a freshman last season. Rudolph was fourth on the team in receiving with 38 catches for 555 yards and 4 touchdowns. Wilson was the third best receiving option on the squad with 42 catches for 527 yard and 4 touchdowns.