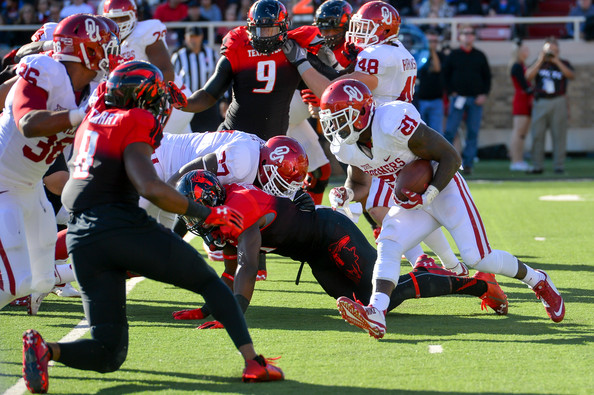 Keith Ford Suspended Indefinitely
Oklahoma has suspended running back Keith Ford indefinitely for academic and team rules violations. The Sooners posted the news on their Twitter account after confirming the news with head coach Bob Stoops.
Ford was not listed on the roster as of this publishing and his bio on the Sooners' website offers no information on his position or other basic information. The specific details of his suspension have not been released.
As a freshman in 2013, Ford played in 10 games while finishing with 134 yards and a touchdown on 23 carries. In 2014, Ford saw a lot more playing time, but was still second string behind the dynamic Samaje Perine. Ford still managed to rush for 369 yards and 5 touchdowns on 63 carries while also catching 11 passes for 140 yards and a touchdown. Ford missed 5 games in 2014 due to a broken fibula he suffered against Tennessee.
Perine ran for 1,713 yards and 21 touchdowns in 13 games last year while also starting 8 games. He also had 15 catches for 108 yards.
Alex Ross, Daniel Brooks, Rodney Anderson, and Joe Mixon are all in contention to get Ford's reps while he is suspended. Ross, a redshirt junior, has 614 yards and 4 touchdowns in 23 games as a Sooner. Brooks, also a redshirt junior, has only 6 carries for 26 yards, which all came in 2014. Anderson will be a freshman in 2015 while Mixon redshirted last season due to his season long suspension.
Earlier this spring, running back David Smith transferred from Oklahoma to Jacksonville State.