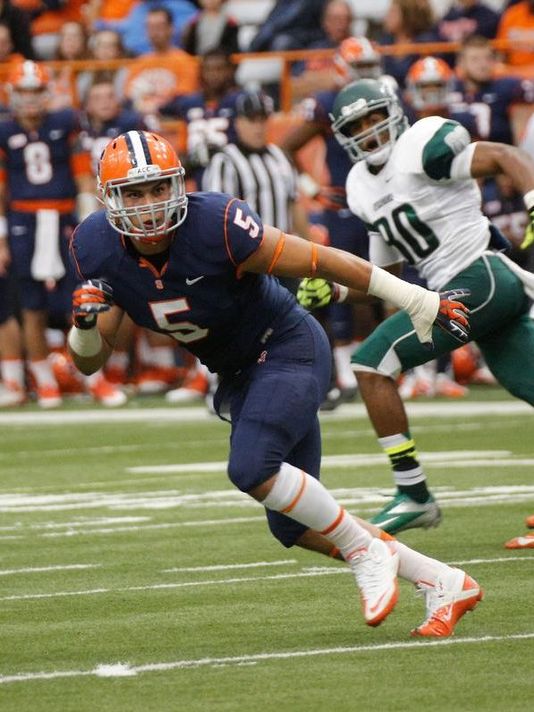 Luke Arciniega Granted Two Years Of Eligibility
Syracuse linebacker Luke Arciniega has been granted two extra years of eligibility by the NCAA, according to the Syracuse Post-Standard.
Arciniega posted on his Instragram account the news of receiving two years. In the post, he said he was "only hoping for one." He will now spend 2015 and 2016 with the Syracuse Orange.
"College career hasn't gone as planned with all the injuries," Arciniega wrote on Instagram, "but patience and faith (have) kept me on track. After few months of waiting, found out that I was granted 2 years of eligibility back when I was only hoping for one. Feeling blessed."
Arciniega began his career at Nevada in 2009 and spent three semesters at the school before deciding to leave due to concussion concerns with the Wolfpack. The Syracuse Post-Stanford hypothesized that only one year of his time at Nevada counted against Arciniega, which led to him receiving two more season of eligibility.
Arciniega then went to Sierra College in Rocklin, California for 2012 where he recorded 87 tackles, 5.5 sacks, and recovered two fumbles. He was named to the Valley All-Conference First team for his efforts in 2012. In 2013, his first season with the Orange, he played in all 13 games on his way to 18 tackles, 2 tackles-for-loss, one sack, and an interception. In 2014, Arciniega played in 4 games and recorded only 4 tackles and a sack. He missed the final 8 games due to a "lower-body injury," but nothing more specific was given.
Arciniega has played linebacker and is listed at the position on his Syracuse bio, but he will be making his way to defensive end this year.