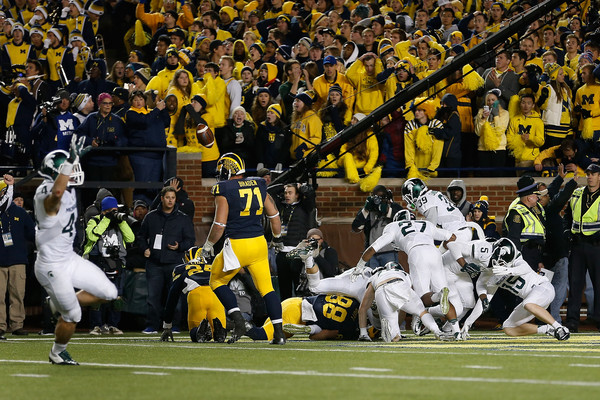 2015 Week 7 Big Ten Roundup
Week seven of the college football season saw six Big Ten Conference games. Sitting idle were the Maryland Terrapins and Illinois Fighting Illini.
#17 Iowa Hawkeyes at #20 Northwestern Wildcats
Result: Iowa Win 40-10 (Saturday, October 17)
Iowa put forth a dominant win over Northwestern on the road to put a virtual hammerlock on the Big Ten West Division midway through October. There was a loss in the form of running back Jordan Canzeri, but they did just fine with his replacements.
Iowa raced out to a 16-0 lead before a 10-0 run by the Wildcats made it 16-10 at the half. It was all Iowa after that with the final 24 points. C.J. Beathard had a pedestrian game with 15 of 25 passing for 176 yards with no touchdowns and an interception, but this was all about Iowa's rushing attack.
Canzeri went down early with an injury and was seen in a walking boot a short time later. Akrum Wadley stepped right in and made it seem like Canzeri never left. Wadley ran for 204 yards and 4 touchdowns on 26 carries. Derrick Mitchell Jr. had 79 yards and a touchdown on 10 carries as well. Iowa finished with 492 yards of offense and went 9 of 18 on third down. Matt VandeBerg had 8 catches for 78 yards.
Northwestern's offense struggled once again. Clayton Thorson went 17 of 35 for 125 yards with one touchdown and one interception. He also had 11 carries for just 10 yards. Even Justin Jackson was stymied with only 30 yards rushing on 10 carries. The Wildcats saw 10 different receivers catch a pass and six of them had at least two catches.
Northwestern had only 198 yards of total offense and went 8 of 19 on third down. For Iowa, Desmond King recorded his sixth interception this season and continues to be a one-man turnover machine.
Iowa (7-0, 3-0) will welcome the bye next weekend before a home game against Maryland on Halloween. Northwestern (5-2, 1-2) have lost back-to-back games and face a road test at Nebraska next week.
Purdue Boilermakers at Wisconsin Badgers
Result: Wisconsin Win 24-7 (Saturday, October 17)
Wisconsin waited until late in the third quarter to put some breathing space between them and Purdue in a lackluster performance by the offense.
Joel Stave went 30 of 39 for 322 yards with no touchdowns and an interception. His interception was an overthrown ball with a big return that eventually led to a touchdown for Purdue. The running game was handled by Dare Ogunbowale with Taiwan Deal out with an injury. Corey Clement was dressed for the game but did not play. Alec Ingold had 9 rushes for 19 yards, but had the first and last touchdowns of the game.
The passing game for Wisconsin was made up of mostly the short variety of passes. Alex Erickson had 9 catches for 86 yards while Robert Wheelwright had 6 catches for 61 yards. Dare Ogunbowlae also had 6 catches, but for 51 yards. The Badgers racked up 418 yards of offense and went 7 of 14 on third down.
Rafael Gaglianone missed a field goal late in the first half, which marks sixth game this year that he has missed a field goal. He is 10 for 17 on the season.
David Blough could not get any rhythm as he finished 15 of 26 for 136 yards. Markell Jones ran for 46 yards on 12 carries and D.J. Knox had 10 carries for 24 yards. Purdue had 191 yards of offense and went a paltry 4 of 13 on third down. The Boilermakers held the ball for only 22 minutes and 14 seconds during the game.
Purdue (1-6, 0-3) has a bye next week and will play at home against Nebraska on October 31. Wisconsin (5-2, 2-1) faces Illinois on the road next week. The Illini are coming off a bye.
Rutgers Scarlet Knights at Indiana Hoosiers
Result: Rutgers Win 55-52 (Saturday, October 17)
This game was about offense and only a touch of defense. It was also about Indiana blowing a 52-27 lead in final 18 minutes of the game.
As one can imagine with a 55-52 score line, the quarterbacks had pretty good games. Chris Laviano went 28 of 42 for 386 yards with 3 touchdowns and a pick. His top target was none other than Leonte Carroo who had another massive game. Carroo had 7 catches for 157 yards and 3 touchdowns, but left in the third quarter after an injury and did not return.
Robert Martin ran for 124 yards and 3 touchdowns on 17 carries while Paul James added 42 yards and a touchdown on 6 carries. Rutgers rushed for 210 yards as a team. Rutgers did pretty well on third down going 12 of 20 and amassed 596 yards of offense.
Indiana was glad to see Nate Sudfeld back and he had a big game going 32 of 42 for 464 yards with 4 touchdowns and 2 interceptions. Jordan Howard was still out, but Devine Redding was able to rush for 99 yards and 2 touchdowns including a 66 yard touchdown run in the third quarter to make it 52-27.
Three different Hoosiers finished with at least 100 yards receiving. Mitchell Paige had 8 catches for 126 yards, Ricky Jones had 6 grabs for 119 yards and a touchdown, and Simmie Cobbs Jr. had 7 catches for 107 yards. Jordan Fuchs had just two catches for 9 yards, but both went for touchdowns.
Indiana had 627 yards of offense, but struggled on both third and fourth down. The Hoosiers went a combined 3 of 14 on those two downs.
After Redding's touchdown run made it 52-27, a series of miscues allowed Rutgers to tie the game. A 26 yard fumble return by Kemoko Turay made it 52-39 while the two interceptions by Sudfeld were turned into touchdowns as well.
Rutgers (3-3, 1-2) faces Ohio State next week at home. Indiana (4-3, 0-3) saw one of their better opportunities for a win fade away in the final quarter and have to play Michigan State next week in East Lansing.
#7 Michigan State Spartans at #12 Michigan Wolverines
Result: Michigan State Win 27-23 (Saturday, October 17)
Of the craziest finishes to a college football game in history, this ranks up there near the top. The Spartans pulled off a shocking final play to win 27-23.
Connor Cook was not very accurate going 18 of 39, but threw for 328 yards with a touchdown. The rushing game for both teams was stuffed all game long. The Spartans finished with 58 yards on 33 carries with Gerald Holmes leading the team with 8 carries for 33 yards. LJ Scott had two touchdown rushes on 8 carries for 16 yards.
Aaron Burbridge had a big game with 9 catches for 132 yards. Macgarrett Kings had 3 catches for 57 yards and a touchdown, but also had a few big drops. The Spartans had 386 yards of total offense, went 3 of 12 on third down, and 0 for 4 on fourth down.
Michigan was led by a decent performance from Jake Rudock. He went 15 of 25 for 168 yards with no touchdowns, but did not commit a turnover. The rushing game did only slightly better than Michigan State with 33 rushes for 62 yards. De'Veon Smith led the team with 46 yards on 19 carries while Sione Houma had 3 rushes for 30 yards and 2 touchdowns.
Jehu Chesson had 4 catches for 58 yards and Amara Darboh had 3 catches for 52 yards. Michigan had only 230 yards of offense and converted 4 of 15 on third down.
There was just one turnover in the game and it came on the last play. A bobbled punt by Blake O'Neill was returned by Michigan State's Jalen Watts-Jackson for the win in a truly incredible finish.
Michigan State (7-0, 3-0) faces Indiana next week at home. Michigan (5-2, 2-1) has a bye week and faces Minnesota on the road October 31.
Nebraska Cornhuskers at Minnesota Golden Gophers
Result: Nebraska Win 48-25 (Saturday, October 17)
Nebraska played a good game on offense and did not have to worry about another heartbreaking loss this week. In fact, it was the defense that made sure there would not be another late loss.
Tommy Armstrong went 18 of 26 for 261 yards with 3 touchdowns while also rushing for 38 yards. Terrell Newby had a nice game on the ground with 116 yards and 2 touchdowns on 13 carries. Alonzo Moore had 4 catches for 84 yards and a score while Jordan Westerkamp made 6 grabs for 76 yards. Nebraska had 464 yards of offense and went 7 of 13 on third down.
With under three minutes to play, Minnesota was mounting one last challenge down 16 points before a 41 yard pick six by Joshua Kalu. Just to be safe, Nate Gerry intercepted Minnesota on the next drive to truly end the game.
Minnesota got a rare big game passing from Mitch Leidner. He went 26 of 40 for 301 yards with a touchdown and the two aforementioned picks. The rushing game was held in check with only 65 yards on 26 carries. Shannon Brooks had 25 yards, KJ Maye had 21 yards and a touchdown, and Rodney Smith had 20 yards.
Maye also had 11 catches for 94 yards while Eric Carter caught 4 passes for 91 yards and a touchdown. Minnesota had 366 of offense and went 6 of 15 on third down.
Nebraska (3-4, 1-2) faces Northwestern next week at home. Minnesota (4-3, 1-2) will play Michigan on October 31 after a bye next week.
Penn State Nittany Lions at #1 Ohio State Buckeyes
Result: Ohio State Win 38-10 (Saturday, October 17)
It was a slow start for the Ohio State offense, but a 21 point stretch on three straight touchdown drives gave them more than enough points.
Cardale Jones had poor numbers going 9 of 15 for only 84 yards and was substituted in or near the red zone by J.T. Barrett. Barrett went 4 for 4 with 30 yards and 2 touchdowns through the air, but was most effective with his legs. He ran for 102 yards and 2 touchdowns on 11 carries and really helped spark the offense.
Ezekiel Elliott had his usual good game with 153 yards and a touchdown on 27 carries. Braxton Miller had some rushes finishing with 4 carries for 30 yards. Miller lead the team with 4 catches and was second with 33 yards along with a touchdown catch. Michael Thomas had 3 catches for 34 yards and a touchdown as well. The offense had 429 yards while going 5 of 11 on third down.
Penn State had a rough time passing the ball with Christian Hackenberg going 7 of 13 for 120 yards and a touchdown. Penn State had success on the ground thanks to Saquon Barkley's 194 yards on 26 carries. Chris Godwin had 3 catches for 103 yards and a big 56 yarder. Penn State had 315 yards of offense, but struggled mightily on third down with only 1 conversion on 12 attempts.
Penn State (5-2, 2-1) will face Maryland next week at home looking to secure bowl eligibility. Ohio State (7-0, 3-0) will travel to play Rutgers next weekend.
Check back next Sunday for the Week 8 edition of the Big Ten Roundup.