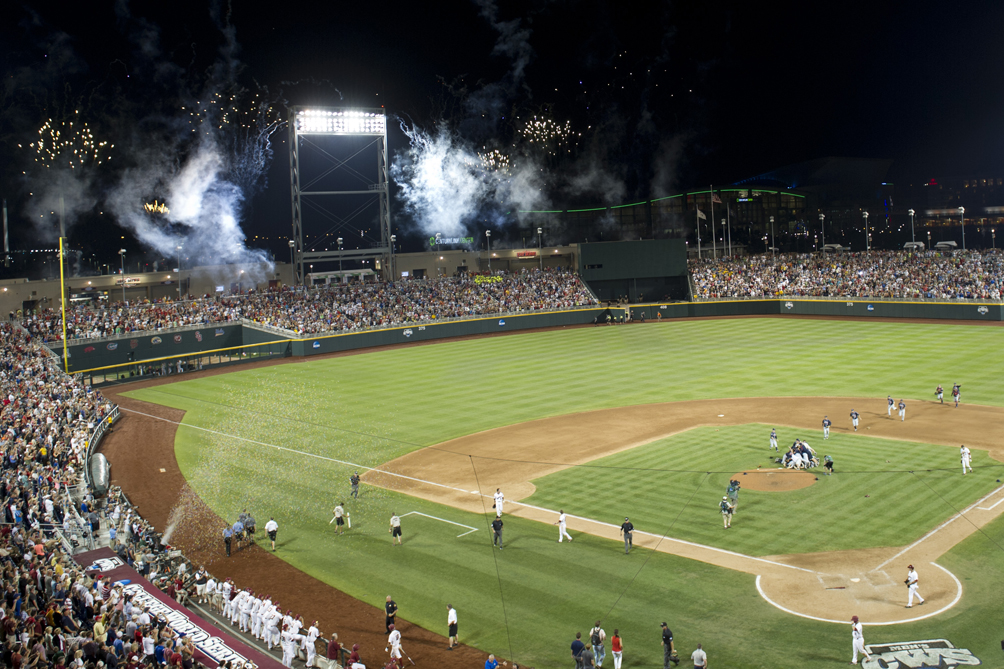 2016 College World Series Schedule
The 2016 NCAA Division 1 Baseball Tournament has reached the final venue with the 2016 College World Series ready to begin. The eight teams that won their Super Regional will meet in Omaha, Nebraska to play in a double elimination format until two teams are left standing. Those two teams will then play in a best of three Championship Series to determine the National Champion.
The College World Series will begin on Saturday, June 18 and the double elimination portion will end on Saturday, June 25. The Championship Series will begin on Monday, June 27. Below are the eight teams that made the 2016 College World Series with both Coastal Carolina and UC Santa Barbara making their first appearance.
All games at the 2016 College World Series will take place at TD Ameritrade Park Omaha.
Seed
Team
Record
Conference
CWS Appearances
(Including 2016)
1
Florida
52-14
SEC
10th
3
Miami (FL)
50-12
ACC
25th
5
Texas Tech
46-18
Big 12
2nd
Unseeded
Arizona
44-21
Pac-12
17th
Unseeded
Coastal Carolina
49-16
Big South
1st
Unseeded
Oklahoma State
41-20
Big 12
20th
Unseeded
TCU
47-16
Big 12
4th
Unseeded
UC Santa Barbara
42-18-1
Big West
1st
Schedule
Below is the schedule for the 2016 College World Series. An updated bracket can be found here. Super Regional scores can be found here while Regional scores can be found here. The Championship Series Schedule can be found at the bottom. The schedules below are subject to change due to weather or NCAA decisions.
Date
Game Number
Time (Eastern)
TV
Team #1
Team #2
Final Score
Notes
6/18/2016
Game #1
3 PM
ESPN2
UC Santa Barbara
Oklahoma State
0-1
6/18/2016
Game #2
8 PM
ESPN2
Arizona
#3 Miami (FL)
5-1
6/19/2016
Game #3
3 PM
ESPNU
TCU
#5 Texas Tech
5-3
6/19/2016
Game #4
8 PM
ESPN2
Coastal Carolina
#1 Florida
2-1
6/20/2016
Game #5
2 PM
ESPNU
#3 Miami (FL)
UC Santa Barbara
3-5
Miami (FL) Eliminated
6/20/2016
Game #6
7 PM
ESPN
Oklahoma State
Arizona
1-0
6/21/2016
Game #7
5 PM
ESPN2
#5 Texas Tech
#1 Florida
3-2
Florida Eliminated
6/21/2016
Game #8
9 PM
ESPN
TCU
Coastal Carolina
6-1
6/22/2016
Game #9
7 PM
ESPN
UC Santa Barbara
Arizona
0-3
UC Santa Barbara Eliminated
6/23/2016
Game #10
8 PM
ESPN2
Coastal Carolina
#5 Texas Tech
7-5
Texas Tech Eliminated
6/24/2016
Game #11
3 PM
ESPN2
Arizona
Oklahoma State
9-3
6/24/2016
Game #12
8 PM
ESPN
Coastal Carolina
TCU
4-1
6/25/2016
Game #13
3 PM
ESPN2
Oklahoma State
Arizona
1-5
Oklahoma State Eliminated
6/25/2016
Game #14
8 PM
ESPN
TCU
Coastal Carolina
5-7
TCU Eliminated
Date
Game Number
Time (Eastern)
TV
Team #1
Team #2
Final Score
Notes
6/27/2016
Game #1
8 PM
ESPN
Arizona
Coastal Carolina
3-0
6/28/2016
Game #2
9 PM
ESPN
Coastal Carolina
Arizona
5-4
6/30/2016
Game #3
3 PM
ESPN
Coastal Carolina
Arizona
4-3
Coastal Carolina Wins 2016 NCAA Baseball Title