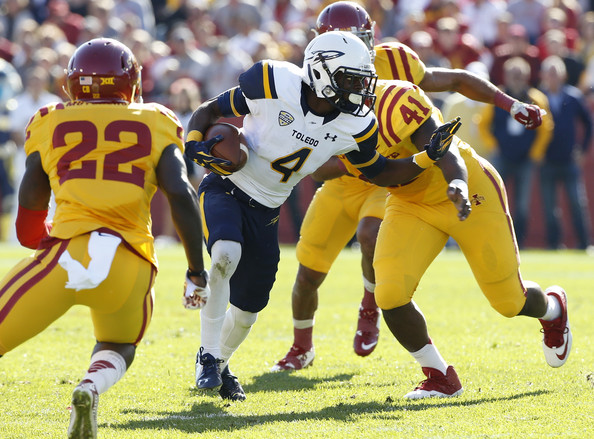 Iowa State Football Exodus Continues
Linebacker Alton Meeks has announced via Twitter that he is leaving the Iowa State Cyclones. He is the latest in a series of players who have decided to leave the program.
Meeks came to Iowa State in 2013 when he redshirted his first year. He was made a starter at the beginning of the 2014 season, but that did not last long, as he finished with only 2 starts. For the year he played in 11 games while recording 12 tackles and a forced fumble.
Prior to Meeks' departure, there was also some big losses on offense. Running back DeVondrick Nealy left the team earlier this year after running for 273 yards and a touchdown while also catching 18 passes for 187 yards and a score. Nealy was expected to contend for the starting running back position in 2015.
Also on the offense side, wide receivers Tad Ecby, Chase Onken, P.J. Harris, and Damein Lawry were all no longer with the team. Ecby caught 8 passes for 236 yards and 3 touchdowns while having the highest average yards per catch on the team in 2014. In 2013, Ecby had 22 catches for 233 yards in six starts.
Onken was a redshirt freshman while Harris had 9 catches for 55 yards. Harris broke his leg in September and was one of the leading receivers on the team when the injury occurred. Lawry was a special teams player who played in all 12 games in 2014 and recorded 3 tackles.
Tight end Alex Leslie and offensive lineman Duaron Williams were also announced as leaving via transfer. Leslie played in 10 games during the 2014 season.
Perhaps the biggest loss was starting safety TJ Mutcherson. He played in 10 games, starting all of them for the Cyclones recording 76 tackles, which was second best on the team. He also intercepted 2 passes, had 4 pass breakups, and 6 passes defended.
For a team that is coming off a 2-10 season, averaging only 23.2 points per game, and giving up 38.8 points per game the loss of experience and depth will only hinder them in 2015.