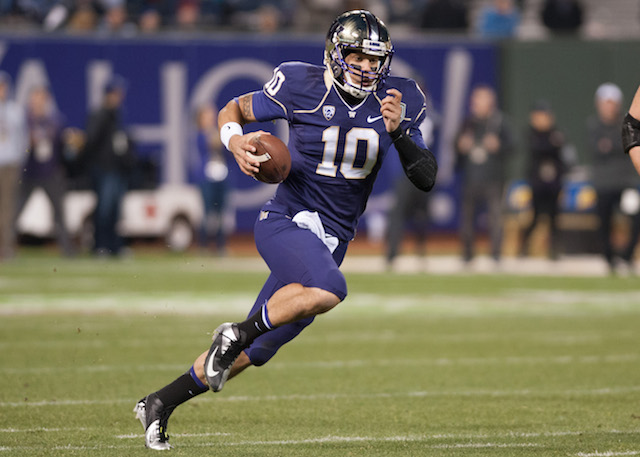 Seattle Times Reporting Cyler Miles Out At UW For 2015
The Seattle Times is reporting that starting quarterback Cyler Miles will not play for Washington in 2015. It was reported earlier on Friday that Miles would only miss spring practices for personal reasons.
"Cyler is dealing with some things in his life that are more important than football, and he felt it was important to take some time away from the game," head coach Chris Petersen said in a statement. "We are working to support him in any way we can and hope he returns back to the football field soon."
Miles was made the starter for the 2014 season, but was suspended for the opener at Hawaii for his role in alleged assaults dating back to February 2, 2014.
Miles started 12 of the 14 games for Washington in 2014. He went 219 of 329 passing for 2,397 yards with 17 touchdowns and 4 interceptions. He also ran for 307 yards and 4 touchdowns on 118 attempts.
Miles would not be the first quarterback to leave the Huskies this offseason. Troy Williams transferred from the program in early January.
There are three quarterbacks left on the roster for Washington. Freshman Jake Browning, redshirt freshman K.J. Carta-Samuels, and junior Jeff Lindquist will battle for the starting spot.
Browning enrolled early at Washington in January to take part in spring practices. Carta-Samuels redshirted in 2014 while Lindquist is the only quarterback to have taken a snap in college. He started in place of Miles in the season opener at Hawaii going 10 of 26 for 162 yards and a touchdown in the 17-16 win over Hawaii. Lindquist would only throw four more attempts the rest of the season.