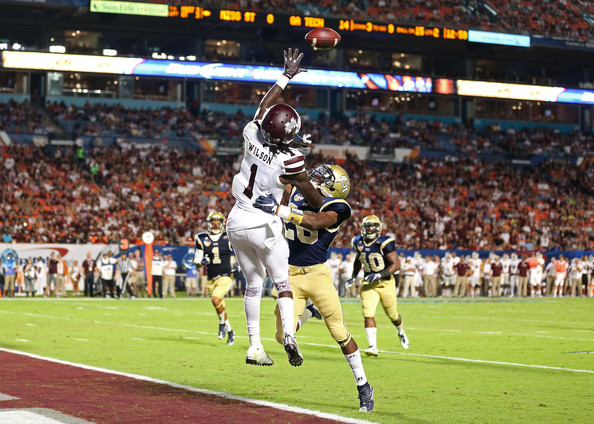 De'Runnya Wilson Arrested
Mississippi State's top receiver De'Runnya Wilson was arrested on Friday night during a traffic stop in Alabama. He was booked in jail after a police dog detected drugs. Wilson has been charged with second degree possession of marijuana and possession of drug paraphernalia.
Mississippi State spokesperson Bill Martin said, "Mississippi State (officials) are aware of the matter. We are getting more details and will handle it appropriately."
Wilson was arrested with three other men and all four were booked on $2,500 bond.
Wilson emerged as the top receiving threat for the Bulldogs in 2014 after impressing in 2013. During the 2013 season Wilson caught 26 passes for 351 yards and 3 touchdowns in 13 games. In 2014, Wilson played in 12 games with 47 catches for 680 yards and 9 touchdowns. He led the team in all three of those categories. He will be a junior in 2015.
He is the fourth Mississippi State player to make headlines this week after Dak Prescott, Damian Williams, and Torrey Dale were attacked at a concert in Panama City Beach, Florida on Monday. Prescott is not pressing any charges at this time.
Mississippi State begins spring practice this Wednesday.