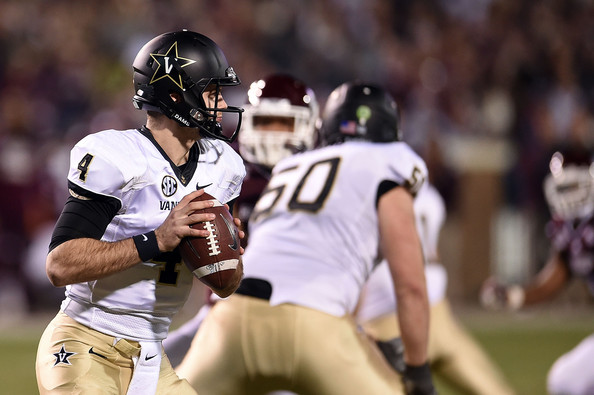 Patton Robinette Leaves Football Over Health Concerns
Vanderbilt quarterback Patton Robinette has decided to stop playing football over concerns for his health. He told head coach Derek Mason on Thursday before telling his teammates on Friday morning.
"This has been a very difficult decision to make," Robinette said in a statement through the school. "This team means the world to me and I love playing football more than anything. It's been tough coming to a decision that is right for my family and I, and protects my health and future.
"I've been very deliberate in coming to this decision. It's difficult but I'm really excited to move forward to the next chapter of my life and really to see what the field of medicine has in store for me."
Robinette's decision comes on the heels of former San Francisco 49er Chris Borland and former Michigan Wolverine Jack Miller. Both of those were concerned about the long-term impact of concussions.
Robinette enrolled early at Vanderbilt in 2012 to participate in spring practice. He did not play until 2013 when he was thrust into action as quarterback to injured Austyn Carta-Samuels against Texas A&M. He went 15 of 28 for 216 yards with a touchdown and 2 picks against the Aggies. For the 2013 season, Robinette went 46 of 88 (52.3%) for 642 yards with 4 touchdowns and 5 interceptions. He also ran for 214 yards and 7 touchdowns on 71 attempts.
He did not play as much in 2014 due to a concussion he suffered against South Carolina that caused him to miss the rest of the contest versus the Gamecocks and the next 6 games as well. He finished 2014 going 43 of 67 (64.2%) for 454 yards with 3 touchdowns and 3 interceptions. He had 29 rushing attempts for 63 yards and 1 touchdown as well in 2014.
Vanderbilt still has three quarterbacks on the roster in sophomore Wade Freeback, redshirt sophomore Johnny McCrary, and redshirt freshman Shawn Stankavage. 2015 recruit Kyle Shurmur will not be on campus until the fall.
Freeback and McCrary both saw action in 2014. Freeback went 34 of 72 (47.2%) for 376 yards with one touchdown and 5 interceptions. McCrary went 78 of 152 (51.3%) for 985 yards with 9 touchdowns and 8 interceptions. He also had 39 yards rushing on 22 attempts.
Robinette will enter medical school upon completion of his degree.