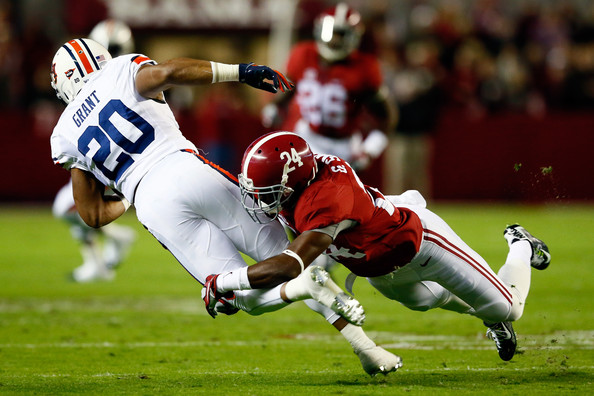 Alabama DB Geno Smith Arrested
Alabama defensive back Geno Smith was arrested and charged with a DUI on Saturday morning. Smith's bond was set at $1,000.
Smith was also arrested and charged with a DUI in August 2013. In that instance, Alabama head coach Nick Saban suspended him one game (the season opener against Virginia Tech) in 2013.
Smith will be a senior in 2015 and was expected to be a starter at free safety.
Smith played in 13 games as a freshman in 2012 finishing with 9 tackles and half a tackle-for-loss. In 2013, he had 13 tackles and half a tackle-for-loss in 12 games. Smith started 6 games in 2014 while playing in all 14 games. He was fifth on the team in tackles with 56, had 3.5 tackles-for-loss, and a forced fumble.
There has been no word from the University of Alabama regarding the arrest of Smith. Below is what Saban had to say in 2013 about Smith's first arrest.
"We've never had an issue with Geno. He's an excellent person," coach Nick Saban said in 2013. "He's never been in trouble here before, never been in my office for anything. But I think this is something that everybody should learn from, that when you make a bad choice sometimes the consequences of that choice can really have a negative effect.
"Some of these guys don't have enough foresight to understand cause and effect, but Geno has been a really good person in the program and just made a choice, bad decision. Made several of them, so now he's got consequences for it."
Sophomore Hootie Jones could see more reps at free safety as a result of Smith's arrest. As a true freshman, Jones played in 7 games and had 2 tackles.