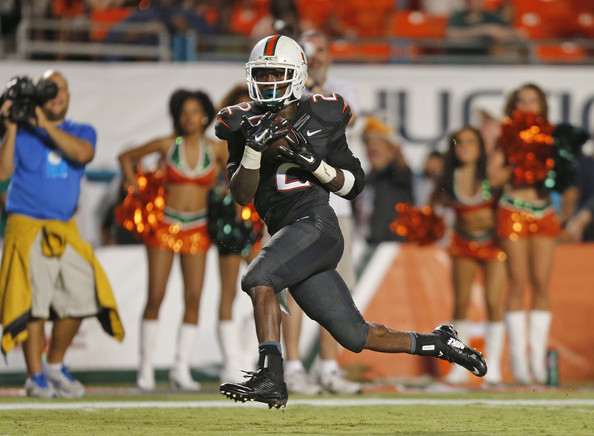 Joseph Yearby Suspended For Spring Game
Miami Hurricanes running back Joseph Yearby was suspended for Saturday's spring game for allegedly breaking curfew on Friday night. The Miami Herald's Susan Miller Degnan reported the news on Saturday.
According to Degnan, "I was told by my source, but not by UM, that Yearby was suspended for breaking curfew last night.
I was told he was there for the birth of his baby, but I did not have that confirmed and I don't know when the baby was born."
That is a good reason to break curfew, but a stringent reaction by the Hurricanes if true. There is no doubt that head coach Al Golden will be fielding questions on this matter following the conclusion of the spring game.
Yearby is set to be one of the running backs to replace the electric Duke Johnson in the backfield. As a true freshman in 2014, Yearby played in 12 games with 509 yards and a touchdown on 86 carries. His 509 yards was second best on the team and 160 yards more than Gus Edwards (61 carries for 349 yards and 6 touchdowns). Yearby also had 8 catches for 118 yards and a touchdown.