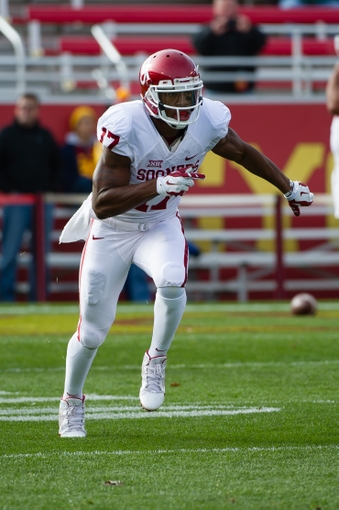 Oklahoma WR Jordan Smallwood Hurts ACL
Oklahoma wide receiver Jordan Smallwood injured his ACL in practice according to head coach Bob Stoops. Oklahoma's Twitter account broke the news on Monday. Tulsa World is reporting that it is a torn ACL and Smallwood will have surgery to repair the ACL.
The injury will likely cost Smallwood to miss the first week or two of the season. Oklahoma opens the season September 5 at home against Akron before a road trip on September 12 to face the Tennessee Volunteers. The Sooners then play Tulsa on September 19 before a two week break prior to Big 12 conference play starting up.
Smallwood will be a redshirt sophomore in 2015. He redshirted in 2013 after suffering a broken foot before playing in all 13 games in 2014. He had 3 catches for 21 yards. He had one reception against Louisiana Tech, Tulsa, and Oklahoma State. He also recorded a special teams tackle against Tennessee.
Oklahoma's top four receivers, Sterling Shepard, Durron Neal, Michiah Quick, and KJ Young, all return for Oklahoma in 2015. Shepard led the team with 51 catches for 970 yards and 5 touchdowns, Neal had 42 catches for 513 yards and 3 touchdowns, Quick caught 25 passes for 237 yards and a score, and Young finished with 19 catches for 225 yards and a touchdown.
Despite the top receivers returning, he had a chance to get more playing time.
"He's just an unbelievably competitive and hungry kid, regardless of what happened the other day, has a really bright future here," offensive coordinator Lincoln Riley said. "We're still really thrilled about him."
Blinn College transfer Dede Westbrook could also get some playing time at the wide receiver position.
The news of Smallwood's injury comes on the same day that running back Keith Ford was suspended indefinitely by the school for "academic and team rules violations."