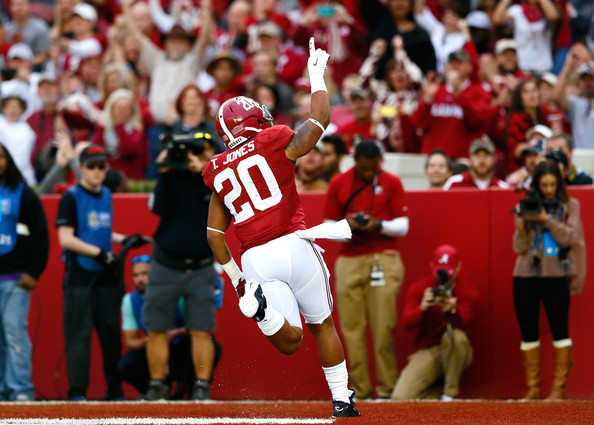 Alabama Running Back Tyren Jones Arrested
The bad news simply will not stop for Alabama. Running back Tyren Jones, already suspended by head coach Nick Saban, has been arrested for possession of marijuana according to al.com.
From al.com:
"A Tuscaloosa police report states Jones was in a car stopped on 10th Avenue with the smell of marijuana. Officers found digital scales in the Dodge Challenger belonging to Brandon Lee Hansberry, who was also arrested.
A small amount of marijuana was found in the pants pocket of Jones. 
Jones was charged with second degree possession of marijuana. He was released on $1,000 bond. Two other unidentified passengers were in the car but were not charged with a crime."
Jones was suspended by Saban on February 10 for "conduct not to the standard of the Alabama football program."
After redshirting in 2013, Jones played in 11 games during the 2014 season. He had 224 yards and 2 touchdowns during the season while finishing as the fourth best rusher.
This weekend was a particularly bad one for Alabama players and arrests. It started early Saturday morning with the arrest of Geno Smith for DUI. It got worse on Sunday when defensive tackle Jonathan Taylor, already a risky signee of Saban's, was arrested for domestic assault and then kicked off the team.
Nick Saban's nightmare is only getting worse right now.
Update 9:04 PM EST – Jones has been dismissed from the football team by Nick Saban.
"He was dismissed from the team when he refused to follow the parameters given to him for reinstatement," Saban said.