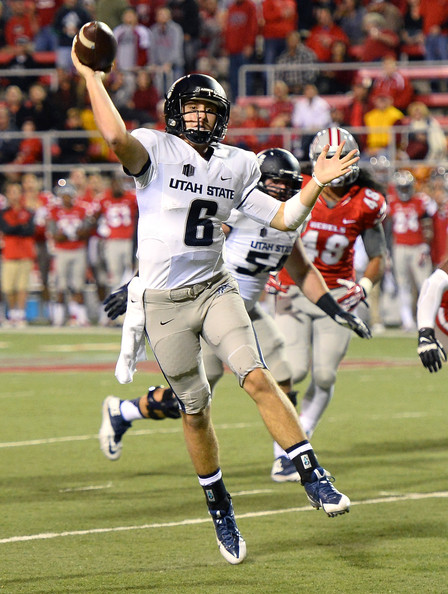 Utah State QB Darell Garretson To Transfer
Utah State head coach Matt Wells announced on Tuesday that quarterback Darell Garretson will transfer out of the program.
"We thank Darell for his contributions to Utah State football the past two years and wish him the best in the future," said Wells.
Garretson was the leading passer for Utah State in 2014. He went 91 of 135 (67.4%) with 1,140 yards, 8 touchdowns, and 3 interceptions. He also had 2 rushing touchdowns. He did that in 5 games, but a wrist injury caused him to miss the rest of the year.
In 2013 as a freshman, Garretson played in 8 games going 126 of 209 (60.3%) for 1,446 yards, 10 touchdowns, and 7 interceptions. Once again, he led the team at quarterback when he started the last 7 games after Chuckie Keeton hurt his knee against BYU.
Keeton suffered another knee injury in 2014 against Wake Forest on September 13 and was given another year of eligibility.
Keeton is electrifying at quarterback when he is healthy and his presence may have factored into Garretson deciding to leave.
Keeton's beset year was in 2013 as a sophomore when he started all 13 games for the Aggies. He went 275 of 407 (67.6%) for 3,373 yards with 27 touchdowns and 9 interceptions. He also had 619 yards rushing and 8 touchdowns on 129 carries.