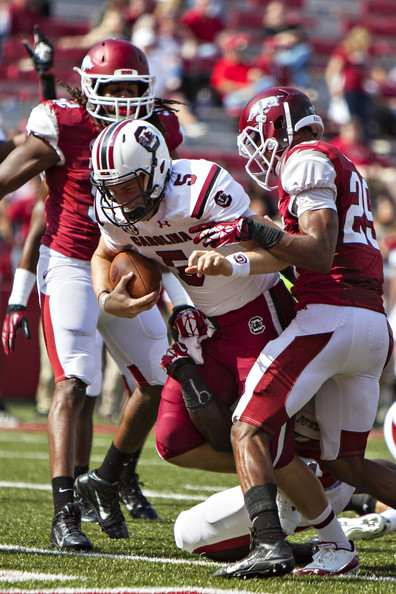 Brendan Nosovitch Leaving South Carolina
South Carolina quarterback Brendan Nosovitch has been released from his scholarship and will transfer to a new school.
The quarterback was fourth on the depth chart behind Connor Mitch, Perry Orth, and Michael Scarnecchia. In addition to those three, freshman Lorenzo Nunez will be on campus in the fall.
Here is what head coach Steve Spurrier had to say about Saturday's scrimmage regarding Mitch, Orth, and Scarnecchia:
"The quarterbacks, none of them shined. It was not encouraging on the offensive side. … Connor Mitch held the ball too much at times and threw late at times, as did all of them," head coach Steve Spurrier said in quotes distributed by the team. "But the protection probably wasn't all that super at times either. Hopefully we can learn from it. The offense did a lot better [Friday] than they did [Saturday], but the defense did better than they did [Friday]. We've got a lot of work to do, a lot of improvement to do."
Nosovitch redshirted in 2012 before seeing some action in 2013. He played in three games going 2 of 2 for 13 yards. He also ran for 12 yards and a touchdown on 3 carries. He played in 5 games in 2014 but did not record any stats while playing on special teams.
Nosovitch was seriously considering leaving South Carolina last fall, but opted to stay.
The three current players at South Carolina have seen limited action in their careers. Mitch, a redshirt sophomore, has gone 2 of 6 for 19 yards in his career. Orth went 0 for 2 last year in one game against Furman and will be a redshirt junior in 2015. Scarnecchia redshirted last year as a freshman.
There is no word on potential landing spots for Nosovitch. He is a native of Allentown, Pennsylvania and would have to sit out a season if he were to transfer to another FBS school, which would leave him with only one season of eligibility. If he were to transfer to an FCS he would have two season of eligibility remaining.