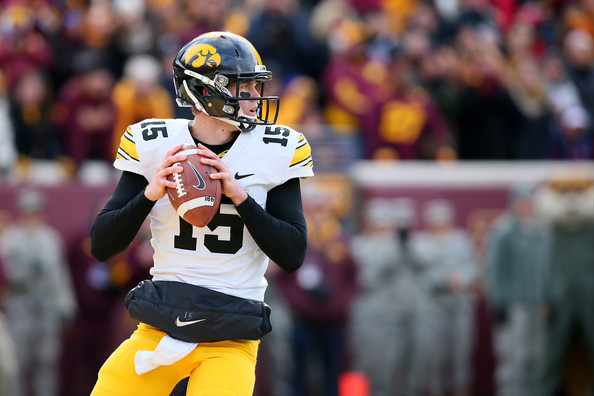 Jake Rudock Transferring To Michigan
In a shock to no one, quarterback Jake Rudock has transferred to Michigan from the Iowa Hawkeyes. The Wolverines formally announced the transfer on Thursday.
"I am excited for Jake to get here and compete with the quarterbacks that we already have in the program," said Jedd Fisch, Michigan's passing game coordinator and quarterbacks and wide receivers coach. "I've known Jake for a long time, since 2011, and I am excited to be a part of the staff that is now coaching him."
"I think that Jake brings great maturity and experience to the program," added Fisch. "He has 25 starts under his belt in the Big Ten and a winning record of 15-10. All of that, combined with the quarterbacks we currently have in the program and all the skill we are surrounding him with, we are excited about the things that Jake can do for our program."
In 2013, Rudock played in 13 games going 204 of 346 (59%) for 2,383 yards with 18 touchdowns and 13 interceptions. He also ran for 218 yards and 5 touchdowns on 67 carries.
In 2014, Rudock played in 12 games going 213 of 345 (61.7%) for 2,436 yards with 16 touchdowns and 5 interceptions. He ran for 176 yards and 3 touchdowns on 67 carries as well.
Rudock will be in contention to start at quarterback with Shane Morris also under consideration.
Rudock is a graduate transfer and will be eligible to play immediately in 2015. However, he is not the only graduate transfer announced by the Wolverines.
On Friday, Michigan announced that punter Blake O'Neill will also come to Michigan for the 2015 season. O'Neill will be transferring from Weber State where he averaged a stellar 44.1 yards per punt in 2014.