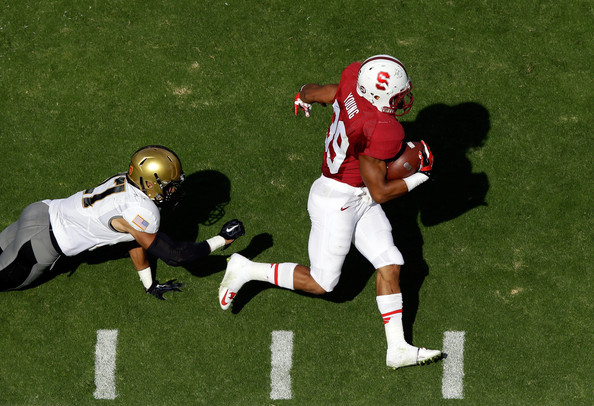 Two Stanford Graduates Transferring
A pair of backfield players for Stanford have announced they will be transferring to different schools. Running back Kelsey Young will be playing for Boise State while fullback Patrick Skov is headed to Georgia Tech.
Boise State head coach Bryan Harsin made the announcement that Young was accepted at Boise State as a graduate transfer. It was also noted that Kelsey Young is the older brother of current Boise State redshirt freshman running back Cory Young.
The older Young ran for 331 yards on 66 carries in 2014 while also catching 5 passes for 31 yards. He was used out of the backfield that included Christian McCaffrey, Remound Wright, and Barry Sanders Jr.
Patrick Skov made his announcement via Twitter on Tuesday morning in a long message. He said he would be graduating in June and then play football for Georgia Tech in the fall.
Skov was the lead blocker for the running backs much of his career, but in 2014 he had 4 rushing touchdowns on 12 carries. He should fit in perfectly to the triple option offense run at Georgia Tech.
The graduate transfer option has been very popular for Stanford and its players this offseason. Wayne Lyons used that route to transfer to Michigan and Kevin Reihner will be going to Penn State as a graduate transfer. The Cardinal picked up defensive lineman Brennan Scarlett via graduate transfer earlier this month.