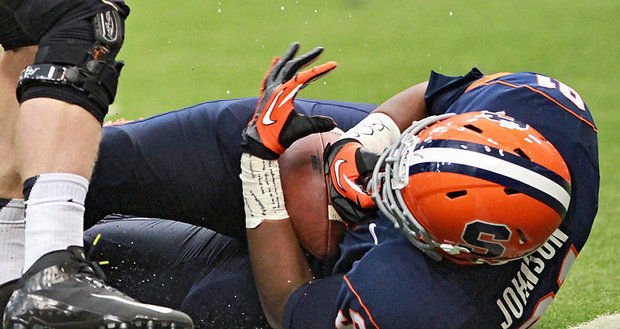 Syracuse DL Isaiah Johnson Forced To Leave Football
Syracuse defensive lineman Isaiah Johnson will no longer be able to play football due to multiple concussions, according to a release by the school.
"Syracuse Athletics team physician Dr. James Tucker reviewed Johnson's concussion history and has medically disqualified Johnson from further physical participation in football and/or any other contact sports at Syracuse University due to multiple concussions as of April 2015," the release said.
Johnson's first concussion came against Florida State in 2013. At the time, Johnson had this to say, "A concussion is the worst thing I'd wish upon anyone. If you have a concussion, I pray for you."
"My memory came back a week-and-a-half later," Johnson said. "I seriously don't remember how I got home. I mean, obviously on a plane, but I don't remember getting on the plane. My dad said he came down. I don't even remember seeing him. They came to my dorm and it's just black. It's still a little shady but I'm good now. I hated sitting in the dark, doing nothing. That was the worst part."
Johnson played in 5 games during the 2014 season, recording 5 tackles, 2 tackles for loss, a sack, and a forced fumble. In 2013, he had 5 tackles, 1.5 tackles-for-loss, 1.5 sacks, and an interception.
Johnson is part of a spate of injuries to the defensive line. Marcus Coleman was forced to quit playing due to chronic foot injuries and Ryan Sloan decided to leave the team for personal reasons.
Back in 2013, defensive lineman Tyler Marona also was forced to give up football due to concussions. Last spring, offensive lineman Kyle Knapp also had to step away due to concussions.