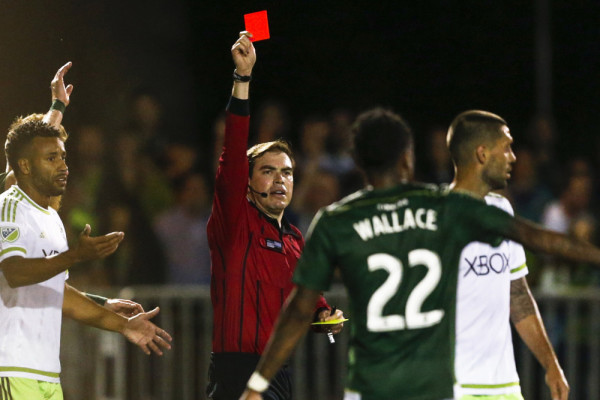 U.S. Soccer Federation And MLS Do Not Get It
Seattle Sounder's Clint Dempsey has been suspended three games for his obnoxious and reprehensible actions against Portland in Tuesday's game in the U.S. Open Cup. Dempsey was also fined.
Dempsey was facing up to three months suspension from all competitions had the United States Soccer Federation found him guilty of assault. Instead, the USSF let the disciplinary actions fall to Major League Soccer on Friday. Below is a statement from MLS.
"We do not tolerate conduct of this nature from any of our players," MLS Deputy Commissioner Mark Abbott said in a statement. "No matter how passionate our players are or what happens in the 'heat of the moment,' they must always respect all aspects of the game, especially the referees. In light of Clint's actions and our past precedents, we felt that a significant suspension was appropriate."
Dempsey will now face only a ban in MLS games instead of missing time in the Gold Cup. This leads to only one conclusion: both the U.S. Soccer Federation and MLS do not get it. What is it? It is integrity.
The USSF's handling of the Hope Solo investigation (was it even a real investigation?) was the first yellow card. ESPN documented some of the rather serious inconsistencies by the USSF. Solo was ultimately suspended for 30 days earlier this year, missing only 2 international friendlies. The USSF had a chance to make a stand on a serious issue and given what happened with Ray Rice and the NFL, it seemed like a great opportunity to show their teeth.
Instead, we saw nothing.
Fast forward to this past Tuesday when Dempsey decided he had enough of the referee and ripped up his booking card. There is ZERO defense for actions like that and he was properly sent off immediately. For the second time, U.S. Soccer had a chance to show their teeth.
Instead, they kicked the can down the road to Major League Soccer and MLS showed they have as much teeth as U.S. Soccer. Another yellow card. For those counting that is a second yellow card, which results in a red card.
It is clear that the stars are bigger than the sport of soccer. Both Solo and Dempsey are stars for club and country. More importantly, they are also role models to young people. What is the message being sent by USSF and MLS?
Your transgressions, both on and off the field, are of little concern to us. As long as we can continue to bring in revenue, we will be more than willing to look past these "minor" infractions.
Quite frankly, this kind of "discipline" is pathetic. In Solo's case, it came on the heels of the Ray Rice incident in which the NFL and Roger Goodell botched his discipline.
For Dempsey, there is not a recent comparable case, but the rules are pretty clear about touching the referee and his property. None of that matters because stars are given their own set of rules.
Shame on Major League Soccer for letting Dempsey off with a putrid 3 game ban. Soccer still has not learned from the failures of the NFL, MLB, NBA, and NHL, which will only impede its progress to become one of the top 4.