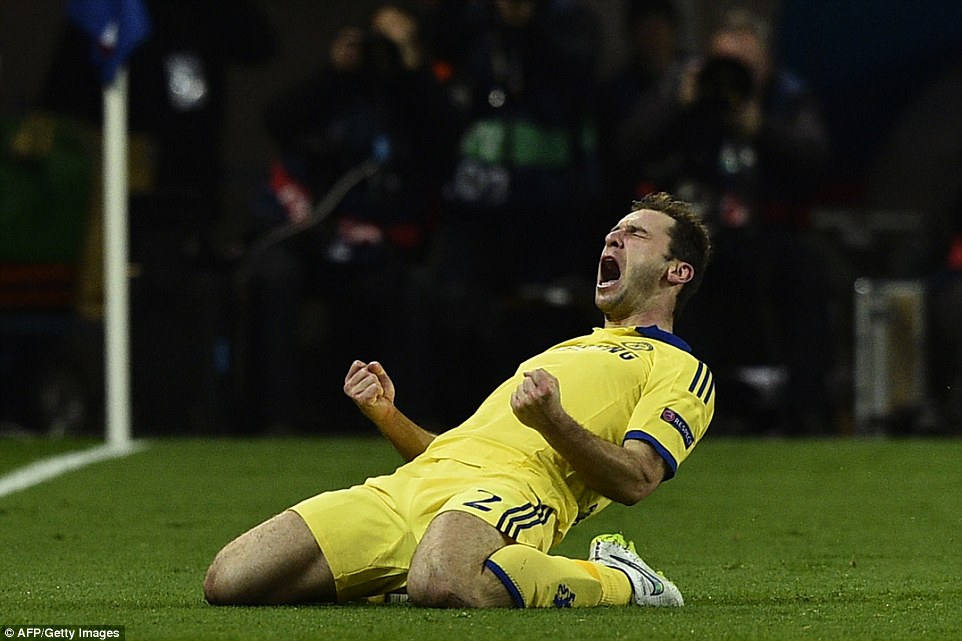 2015 European Football End Of Season Primer
As the calendar nears March, there are plenty of viewing options for American sports fanatics. March Madness will get underway on March 19 along with baseball spring training and the final push of the NBA and NHL regular seasons.
If you are like this author, you were consumed by college football and professional football from September through early February. Unfortunately, football season is over in the American sense, but there are still football options. To be clear, we are talking soccer.
Major League Soccer will also begin on March 6 in the United States, but we are going to focus on something the MLS will not give us: promotion and relegation battles. This is not the place to debate whether there is a place for promotion and relegation in the United States, but instead on what is happening over in Europe.
There will be a focus on the contenders, European playoff spots, as well as the relegation battle in each country. The countries looked at will be England, Spain, Germany, France, Netherlands, and Portugal. Two other leagues, while not in the top 10 of the UEFA Coefficients, but entertaining to this author will be Denmark and Switzerland.
* * * Note: All of the information below is as of Monday, February 23.
England – English Premier League
Contenders: The Premier League appears to be coming down to a battle between Chelsea and Manchester City. Chelsea sits on 60 points while Manchester City is at 55 points. Both teams have 12 games left to play to decide the winner.
European Prospects: Behind the top duo is a logjam of 5 teams within 4 points of each other. Arsenal (48 points), Manchester United (47), Southampton (46), Liverpool (45), and Tottenham (44) are gunning to be in one of the two final Champions League slots. Southampton has been a great story and it would be awesome to see a new team finish in the top four.
Relegation: Leicester City sits bottom of the table with 18 points, Aston Villa is 19th with 22 points, and Burnley is 18th with 22 points as well. Queens Park Rangers (22 points), Sunderland (25), Hull City (26), West Bromwich Albion (27), Crystal Palace (27), and Everton (28) could all fall into the relegation zone with a bad run of form.
Predictions: Chelsea, Manchester City, and Arsenal will be the top three. The fourth team will be Manchester United while Southampton manage to finish fifth and get a Europa League spot.
In the relegation zone, Leicester City, Burnley, and QPR will drop to the Championship. Speaking of the Championship, the three teams promoted at the end of the season will be Derby County, Ipswich Town, and Norwich City. Millwall, Wigan Athletic, and Blackpool will be relegated to League One.
Spain – La Liga
Contenders: Real Madrid lead La Liga with 60 points, Barcelona is second with 56 points, Atletico Madrid is third with 53 points, and Valencia sit fourth on 50 points. This race will come down to the top two and that favors Real Madrid to come away with another Spanish title.
European Prospects: Atletico Madrid are third currently and that does not figure to change by the end of the season. Valencia's 50 points make them 5 clear of fifth place Sevilla and 6 clear of Villarreal. Malaga are seventh with 38 points, but will need one of the two teams ahead of them to slip up to make the Europa League for next season.
Relegation: It is a tight race for the bottom, but three teams have dug themselves in a small hole. Levante is 18th with 22 points, Granada is 19th with 19 points, and Cordoba is 20th with 18 points. Almeria and Elche are both one point clear of the relegation zone while 15th place Deportivo La Coruna has 24 points.
Predictions: The top four will remain the same as they currently are: Real Madrid, Barcelona, Atletico Madrid, and Valencia. Villarreal will finish fifth with Sevilla in sixth and Malaga in seventh.
The relegation battle will be tight, but the three teams going down will be Elche, Granada, and Cordoba. The three teams coming up from the Segunda Division will be Sporting de Gijon, Las Palmas, and Valladolid.
Germany – Bundesliga
Contenders: Bayern Munich is in complete control of the Bundesliga at 55 points, 8 more than Wolfsburg in second. Bayern has scored 59 goals while only giving up 9 thus far in the Bundesliga.
European Prospects: The top two are firmly secure for Champions League action next season, but the other spots are still up for grabs. Borussia Monchengladbach is third with 37 points, Schalke is fourth with 35 points, FC Augsburg is fifth with 35 points, and Bayer Leverkusen is sixth with 33 points. Hoffenheim and Werder Bremen sit with 30 points while Eintracht Frankfurt is 9th with 28 points. The battle for European football in Germany will be hotly contested and entertaining.
Relegation: Stuttgart is last in the Bundesliga with 18 points, Hertha is 17th with 21 points, and Freiburg is 16th with 22 points. There is not much room for the six teams in front of the relegation zone as that extends only to 26 points.
Predictions: Bayern Munich will win the Bundesliga again, but it is a matter of which match day they will do so on while Wolfsburg is locked into second at worst. Schalke will grab third and Borussia Monchengladbach will finish in fourth. Bayer Leverkusen will finish fifth with Werder Bremen securing a wild sixth place finish.
The relegation battle will see Hertha, Paderborn, and Hamburger fall to the next division (assuming Hamburger loses in the Relegation Playoffs). 2. Bundesliga will automatically promote Ingolstadt and Kaiserslautern to the Bundesliga while Karlsruher will beat Hamburger in the Promotion playoffs.
Italy – Serie A
Contenders: Juventus have lost only once in Serie A this year and have 57 points compared to 48 for Roma. It is Juve's title to lose at this point.
European Prospects: While the top two look good, there is a battle for the third Italian Champions League slot. Napoli sits on 45 points, Lazio has 40 points, and Fiorentina has 39 points. Unless Internazionale, Genoa, and/or Sampdoria make an improbable run into third place (all on 35 points), one of the first three teams will be in the Champions League next year.
Relegation: One relegation spot is all but assured for Parma given their financial difficulties. There is even a chance Parma will not finish the season. Cesena  is currently 19th with 16 points while Cagliari is 18th with 20 points. Sitting in 17th is Atalanta with 23 points, Chievo is 16th with 24 points, and Verona is 15th with 25 points.
Predictions: Juventus and Roma will finish one-two as expected. Third place will go to Napoli, Lazio will finish fourth, and Sampdoria grab fifth spot (and a Europa League place).
The relegation battle will be lost by Parma, Cesena, and Atalanta. Coming up from Serie B at the end of the season will be Carpi, Bologna, and Vicenza.
France – Ligue 1
Contenders: Lyon leads a tight race at the top with 54 points. PSG is second with 52 points and Marseille is third 50 points. The eventual winner of Ligue 1 will come from this trio of teams.
European Prospects: Outside the top three, four teams will be in contention for the single remaining Europa League spot. Monaco is fourth with 43 points, Saint-Etienne is fifth with 42 points, Bordeaux is sixth with 41 points, and Montpellier is seventh with 39 points. It will surely be a tight finish for the Europa League slot.
Relegation: As of this writing, Lens will be relegated at the end of the season regardless of where they finish due to irregularities when they were promoted from Ligue 2 at the end of the 2013-14 season. They currently sit 19th with 22 points. In 20th is Metz with 22 points and Evian is 18th with 26 points. Just above the drop zone are Lorient and Toulouse both with 28 points. The two teams above them are Caen and Reims on 31 points.
Predictions: In an exciting finish to the Ligue 1 season, Lyon will hang on for the title over PSG with Marseille back in third. Taking fourth place will be Saint-Etienne with Bordeaux fifth and Monaco sixth.
The relegation teams will be unchanged from the current bottom three meaning Evian, Lens, and Metz will spend next season in Ligue 2. Coming up from Ligue 2 will be Troyes, Brest, and Angers.
Netherlands – Eredivisie
Contenders: PSV currently holds a 14 point lead (64-50) over Ajax and are well on their way to reclaiming the Eredivisie title.
European Prospects: Feyenoord is third with 44 points, but right on their heels is AZ Alkmaar with 44 points as well. Zwolle is fifth with 39 points, Heerenveen is sixth with 38 points, Vitesse is seventh with 37 points, and Twente is eighth with 34 points.
Relegation: Dordrecht will need a miracle to stay in the Dutch top flight with only 12 points from 24 games. NAC Breda is 17th with 18 points and Heracles is 16th with 21 points. Just above the relegation zone sits Go Ahead Eagles with 23 points. Excelsior have a bit of breathing room with 26 points, but could afford to turn some of their draws into wins (Excelsior has a league high 11 draws).
Predictions: PSV cruises to the Eredivisie title with Ajax in second place. AZ manages to overtake Feyenoord for third place with Heerenveen in fifth, Zwolle in sixth, and Twente in seventh.
The one team automatically relegated to the Ereste Divisie will be Dordrecht with N.E.C. replacing them. NAC Breda and Go Ahead Eagles will be put into the relegation playoffs at season's end.
Portugal – Primeira Liga
Contenders: The usual suspects are involved for the league crown once again. Benfica is at 56 points, Porto is at 52 points, and Sporting CP have 47 points. Barring a major collapse by Benfica and the other top two teams, one of these three will win.
European Prospects: Braga (43 points), Vitória de Guimaraes (37), and Belenenses (34) are in the best positions to take the two Europa League spots. Pacos de Ferreira (30), Rio Ave (29), Nacional (28), and Maritimo (27) would need to go on massive win streaks to have a chance to steal one of the Europa League places.
Relegation: There are only two relegation spots in the Portuguese Primeira Liga. Penafiel is last with 16 points while Gil Vicente is 17th with 17 points. The teams above the relegation zone should feel pretty warm given how close they are in points to the bottom two. Academica (18), Vitória de Setubal (19), Arouca (19), and Boavista (21) could easily find themselves in the bottom two by season's end.
Predictions: Benfica will win the title while Porto holds off Sporting CP for the second place spot. Even with a third place finish, Sporting CP will still be in the Champions League next season. Braga finishes fourth with Vitoria de Guimaraes finishing fifth and Belenenses in sixth.
The relegation battle will see both teams currently in the drop zone escape to be replaced by Vitoria de Setubal and Arouca. Chaves and Tondela will be promoted from the Segunda Liga.
Switzerland – Super League
Contenders: Basel currently holds a 5 point lead (45-40) over Young Boys with 21 match days played out of 36. On February 22, Young Boys beat Basel 4-2 and they have one final game against each other the rest of the season. Zurich is third with 39 points and are not out of the running for the league title yet.
European Prospects: The top two teams will be going into the Champions League next season with the third and fourth place teams going into the Europa League. Thun is fourth with 34 points and St. Gallen is fifth with 30 points. It will come down to these five teams to determine the four European entrants for the 2015-16 season.
Relegation: The relegation battle is very tight with only one team going down to the Swiss Challenge League next season. Sion is last with 16 points, but have played 19 games compared to the three teams ahead of them. In 9th is Aarua with 17 points, Luzern is 8th with 18 points, and Grasshopper is 7th with 19 points. Even Liechtenstein based Vaduz is not out of the woods in 6th place with 22 points.
Predictions: Basel will win the Swiss Super League while Young Boys manages to hold on for second over Zurich. Thun will take fourth place as St. Gallen's late season rally falls short of European football.
Sion will escape the basement at the expense of Aarau who will spend next season in the Challenge League. Lugano, who is currently third in the Swiss Challenge League by three points, will replace them in 2015-16.
Denmark – Superliga
Contenders: Through 18 of 33 match days, Midtjylland is first with 43 points over Copenhagen (35) and Randers (34). Given the fourth place team, Brondby, has only 27 points, it is safe to assume one of the top three teams will emerge with the title.
European Prospects: As mentioned above, Brondby is in fourth place with 27 points while the Superliga offers only three European spots. AaB (25), Nordsjaelland (25), Esbjerg (23), and SonderjyskE (23) need things to start going their way if they are to play in the Europa League.
Relegation: Two teams will be relegated at the end of the season and one of them is virtually assured to be Silkeborg. They have four points at this point in the season thanks to four draws. They also have the worst offense in the Superliga and are 15 points adrift of safety. In 11th place is Vestsjaelland with 15 points and are 4 points behind 10th place Odense. Hobro has 21 points while SonderjyskE has 23 points along with Esbjerg. It will come down to the trio of Hobro, Odense, and Vestsjaelland for the final relegation spot.
Predictions: Copenhagen will mount their usual late season rally to contend for the title, but Midtjylland will survive as the Champions. Copenhagen will be second with Randers third.
A close relegation battle will see Vestsjaelland drop down to the Danish First Division with Silkeborg for the 2015-16 season. Coming up from the First Division will be Lyngby and Viborg.
Please feel free to comment on what you think of the predictions above. Enjoy the football action from Europe as the season turns into the home stretch!