Editor's note: This article was updated on May 11, 2021 to correct the latest MEAC membership fee of $250,000. In addition, a follow-up article was posted in November 2023 discussing the possibility of Chicago State joining the Northeast Conference. Chicago State formally joined the NEC on December 5, 2023.
The expansion plans laid out by the Western Athletic Conference earlier this year left current member Chicago State in a tough spot. Shortly after the WAC's expansion announcement, Chicago State announced they would leave the conference in June 2022. The Cougars never really fit geographically and recent years made it clear it was only a matter of when, not if, Chicago State would leave the WAC.
Where does Chicago State go from here? Well… it's complicated but the announcement by Chicago State Athletic Director Elliott Charles explicitly stated the university wishes to remain a Division I program. If the Cougars insist on staying a Division I institution, their options are limited due to numerous factors including few viable conferences to join, the university's financial situation, athletic performance, enrollment, and recruiting. Let's take a closer look at how these factors intertwine starting with Chicago State itself.
Chicago State's Recent Troubles
Chicago State is a commuter school on the South Side of Chicago with a small enrollment of fewer than 3,000 students. Two-thirds of the enrollment is made up of black students and women also account for two-thirds of enrollment. They offer bachelors, masters, doctorate, and PharmD degrees with the pharmacy program being well-known in the Chicagoland area. Tuition has remained relatively stable regardless of degree type with only slight increases for graduate and doctoral students. That gives us a current snapshot but the last decade paints a fuller picture.
Chicago State has faced financial issues for years. In early 2016, all 900 employees were sent a potential layoff notice, canceled spring break for that academic year, and ended the spring semester two weeks early. 300 employees were ultimately laid off that spring as a result of Illinois' inability to agree on a budget. CSU received only $21.7 million in aid for the 2016 fiscal year, nearly half the amount from the year prior. By comparison, they are slated to receive nearly $38.3 million in appropriations for the 2021 fiscal year. The school is facing a $5 million deficit, which may grow even as the pandemic begins to abate and also holds nearly $300 million in debt owed to the State's pension fund (page 39).
The lack of funding has hurt the university's ability to field competitive teams. The inability to travel to scout potential recruits prevents them from making the important face-to-face contact to build a rapport between athletes and coaches. Chicago State athletic coaches were left in dire straits as they had to remain within a 200-mile radius and scour YouTube to find potential commitments. Chicago State spent less than $100,000 on recruiting expenses according to a recent survey completed in 2020. These circumstances offer no respite for a school struggling in sports and situated in an athletic conference with most teams based in the western half of the country.
The performance on the athletic courts and fields has shown how much recruiting has suffered in the last decade. Chicago State men's basketball posted 6 consecutive 20+ loss seasons starting in 2014-15 with the streak only halted by the suspension of the 2020-21 season due to COVID (the Cougars started 0-9). The women's program had an even worse stretch with 8 straight seasons with at least 20 losses from 2011-12 through 2019-20. Like the men's program, the streak only ended due to a COVID ravaged season as they finished 0-14 but completed the season.
The competition for recruits – even in the population-rich Chicagoland – is high. Other Division I institutions include DePaul, Loyola Chicago, Northwestern, and UIC. Extend the competition to the entire state and it becomes Bradley, Eastern Illinois, University of Illinois, Illinois State, Northern Illinois, Southern Illinois, Southern Illinois-Edwardsville, and Western Illinois. Until this point, we haven't even mentioned that Chicago State's campus is on the southern edge of Chicago, nor have we factored in additional competition from the schools in eastern Indiana or southern Wisconsin. It's not hard to see why Chicago State struggles on the recruiting trail but there are additional reasons as well.
Chicago State has also seen its enrollment drop over the last decade. In 2009, they had 7,200 students compared to 2,600 as of fall 2020. Declining enrollment has impacted funding and athletic aid, which in turn has hurt recruiting, and has led to a vicious downward cycle. The Illinois budget crisis didn't help but enrollment has been on a downward trajectory for at least a decade. Below is a chart showing Chicago State's enrollment size since 2009.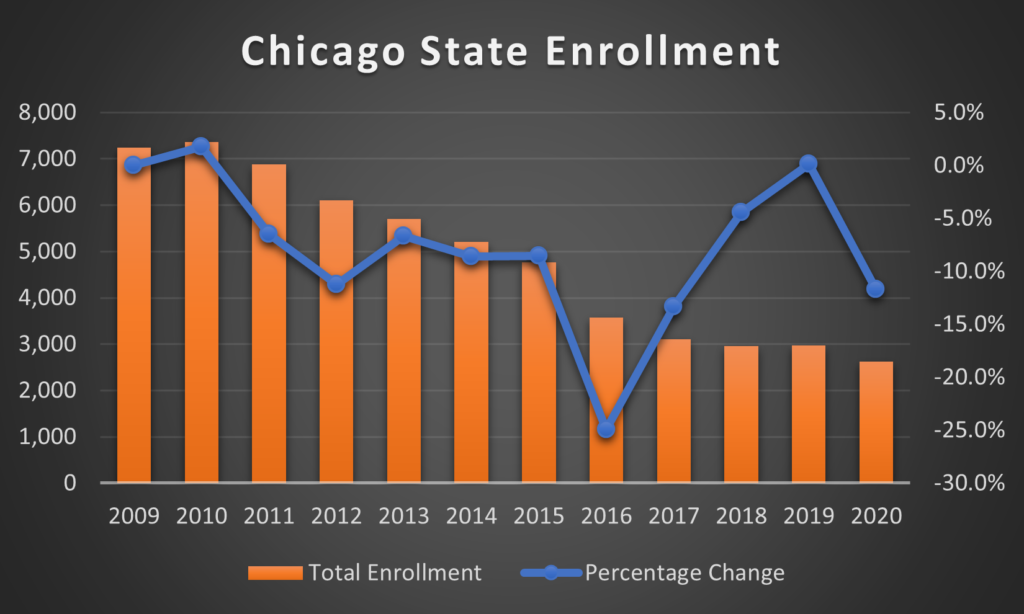 The last point is important in the context of recruiting and enrollment as Chicago State is unique in its demographics with an average age of 30 for the student population. The university caters to an older student base searching for an opportunity to finish a degree as well as a large transfer cohort (55%). It's not surprising that financial woes, whether from a budget impasse or a pandemic, have hurt enrollment as a majority of the students rely upon the university for financial aid. It's also a challenge to attract athletic talent with a population skewed to older students. Another reason for recruiting trouble has been the consortium of conferences Chicago State has held membership in.
Conference History
Chicago State has had an adventurous time as a Division I member. They made the leap from NAIA to Division I starting with the 1984-85 season and posted its best record in Division I just a season later when the men's basketball team went 22-6. The Cougars joined the East Coast Conference for just one season – 1993-94 – before that conference folded and Chicago State joined the Mid-Continent Conference the following year.
Chicago State was a member of the MCC for over a decade until they voluntarily withdrew after the 2005-06 season. They spent three seasons as a Division I independent again before joining the Great West Conference for four seasons starting in 2009-10 and going through the 2012-13 season. An exodus from the GWC included Chicago State leaving for the WAC, which brings us through June 2022 for the Cougars' conference membership history. Below is a table summarizing Chicago State's conference affiliation since they joined Division I in 1984.
| Conference | First Year | Last Year |
| --- | --- | --- |
| NAIA | Before 1983 | 1983-84 |
| Division I Independent | 1984-85 | 1992-93 |
| East Coast Conference | 1993-94 | 1993-94 |
| Mid-Continent Conference | 1994-95 | 2005-06 |
| Division I Independent | 2006-07 | 2008-09 |
| Great West Conference | 2009-10 | 2012-13 |
| WAC | 2013-14 | 2021-22 |
Chicago State has also seen some changes in sports sponsored. The Cougars currently sponsor 7 men's sports and 8 women's sports. The seven sports represented by both genders are basketball, cross country, golf, soccer, tennis, and track & field (both indoor and outdoor). Volleyball is the eighth women's sport. Men's and women's soccer were added as part of the agreement to join the WAC but not without some controversy. Men's soccer was added at the same time the baseball team was eliminated in June 2020. The table below shows the sports offered by Chicago State. Two sports – baseball and softball – are included as they will have to be offered by the school if they join certain conferences.
| Men's Sports | Women's Sports |
| --- | --- |
| Basketball | Basketball |
| Baseball (Discontinued) | |
| Cross Country | Cross Country |
| Golf | Golf |
| Soccer | Soccer |
| | Softball (Not sponosred) |
| Track & Field (Indoor) | Track & Field (Indoor) |
| Track & Field (Outdoor) | Track & Field (Outdoor) |
| | Volleyball |
The conference affiliation changes for Chicago State have hampered recruiting and athletic performance. The Great West tenure was a sprawling hodge-podge of programs from coast-to-coast while the WAC era has seen them as the easternmost team, which has led to cost-cutting measures in recruiting. However, it's understandable why Chicago State chose the WAC over independence because being part of a conference is more desirable beyond the recruiting trail. It helps build a brand among the conference, obtain sponsorships, increase donations, giving, etc. It allows all the schools to collectively get better, at least in theory. With that in mind, let's look at some choices facing Chicago State if they wish to remain as a Division 1 member.
Division I Options
The biggest issue facing Chicago State is receiving an invitation from a conference to become a member. The drawbacks are clear: poor athletic performance, a non-traditional student population, and an uncertain financial situation. Chicago State brings a positive and that is location, albeit they are nearly as far south as you can in the Chicago city limits. Chicago State would provide some access to a large media market and this can be beneficial on several fronts for a conference. Recruiting, media, sponsorships, corporations, potential students, and championship hosting possibilities are just some of the positives. Chicago State also has some decent playing facilities for basketball and volleyball. Let's look at the potential options in alphabetical order.
Horizon League
There are not many conference options for Chicago State in terms of geography but the Horizon League would fit the criteria. After all, they already have one Chicago-based team in UIC. Under this scenario, Chicago State would be the 13th member, all sports offered by the Cougars are sponsored by the conference, and divisional splits could be implemented to ease travel burdens. Below is a map of the Horizon League with Chicago State in teal and all other members in blue.
On the downside, it's hard to envision the Horizon League having two Chicago-based schools in the league considering that UIC has been a member since 1994 and is a stone's throw away from The Loop. This might be more feasible if Chicago State brought better athletic programs along with it. Furthermore, the Horizon League probably wants to keep an even number of teams unless they felt a strong opportunity to help the league by adding a 13th (or 14th) member. Finally, there is at least a $1.15 million entry fee for a new member, which doesn't help Chicago State given its budget constraints.
Independent Status
As previously mentioned, the Cougars have gone the independent route twice before. The men's basketball team went 9-20, 11-17, and 19-13 from 2006-07 through 2008-09. Women's basketball went 9-20 followed by back-to-back 16-13 seasons during that time. Baseball posted records of 4-53, 8-42, and 3-38 as they had three different managers during that period. Volleyball posted a combined record of 7-85 over the three years. The three latest independent years posted mixed athletic results but basketball easily fared the best.
So why return to independent status? For starters, they may not find a conference willing to take them as a member and if they want to remain in Division I this may be Chicago State's only option. Secondly, they will have complete control over the schedule, which means they can play as many money games as they can find. Playing one or two games against the likes of Duke, Illinois, Kansas, UNC, and Wisconsin among many other potential opponents won't result in wins but it will result in getting the Chicago State name out there. If you're going to lose, why not get paid to do so and get some free publicity out of it?
Scheduling may be an issue as an independent for some sports such as basketball, soccer, and volleyball. It might be difficult to secure opponents when conference games begin while also trying to find a regional matchup to keep costs low. It's not an impossible task but one to be mindful of when trying to defray athletic costs. Another factor against independence is that no athletic teams will have access to postseason tournaments through automatic qualifiers. Instead, they would have to rely upon the discretion of NCAA postseason committees, which would require stellar performance.
MEAC
At face value, this seems preposterous given the distance between Chicago State and the current MEAC members. A closer look shows there might be a marriage of convenience for the two parties. First, black students make up the majority of Chicago State's enrollment. Chicago State and the current HBCUs, among others, are all members of the Thurgood Marshall College Fund, which seeks to provide assistance to HBCU and predominantly black institutions. Speaking of enrollment, Chicago State would have a similar enrollment size to Coppin State, Maryland Eastern Shore, and South Carolina State.
Chicago State could also help the MEAC stem the hemorrhaging of schools. Hampton left the MEAC for the Big South in 2018 while Savannah State left in 2019 to return to the Division 2 SIAC. Three more schools – Bethune-Cookman, Florida A&M, and North Carolina A&T – are leaving after the current 2020-21 season concludes. BCU and FAMU are headed to the SWAC while NCAT will join Hampton in the Big South. Chicago State joining the conference would give them 9 members. Below is a map showing the proposed MEAC conference with Chicago State in teal and the 2021-22 membership in blue.
The obvious negative to this plan is the travel. Chicago State would essentially be swapping out cross-country travel to the West for the same to the East. Another reason this may not work is that the MEAC is likely to recruit a football-playing member to keep its FCS automatic qualification bid. The MEAC currently has 6 football-playing members and would like to increase that number in case of further defections and to shore up its AQ bid. (The MEAC currently abstains from the FCS Playoffs to play a yearly bowl game against the SWAC winner. However, this could change in the future as a way to entice potential members to join the conference). Unfortunately for Chicago State, they do not offer football (and it is not recommended they start offering it due to the large costs involved and the current athletic budget struggle Chicago State already has). The MEAC also doesn't sponsor women's golf so Chicago State would have to find a new conference for that sport.
Chicago State would also likely need to pay an application fee and a membership fee to the MEAC. The most recent cost of an application fee was $10,000 – back in 2009 – when Savannah State decided to move up from Division II. The latest MEAC membership fee is rumored to be around $250,000. Chicago State would also need to sign a contract keeping them in the conference for a stated period of time. Given the MEAC's recent string of departures, any exit fee would be substantial for any school to serve as a deterrent from leaving the conference though favorable terms can be made for short-term membership.
Overall, the MEAC plan is a mixed bag. Both sides can benefit from the agreement with Chicago State finding a conference while the MEAC gains a foothold in the Chicago market. However, this arrangement feels more like a short-term solution while the long-term sustainability of such a venture raises more questions than answers.
Summit League
The fourth and final D1 option presented in this article is a familiar place with a new name. The Summit League used to be known as the Mid-Continent Conference from 1989 through 2007 – the same conference Chicago State was a member of until 2006. Chicago State voluntarily withdrew, however, it was reported they were effectively forced to leave due to… budget issues among other problems. So why bring back Chicago State? They are located in a major media market in an era when TV revenues are seemingly only on the way up.
Below is a map of the Summit League with Chicago State included in teal, current members in blue, and future member St. Thomas in yellow. Chicago State would become the 11th member of the Summit League in this case.
While the conference may be adding a major market in Chicago, it's not likely to garner huge attention in the city itself given Chicago State's location. In addition, the Summit League has seen some success on the basketball course with upsets in the NCAA Tournament by North Dakota State in 2014 and Oral Roberts in 2021. The league would not likely take on a program struggling in athletics as it tries to ascend the mid-major ladder, especially for a school they already booted once before. Finally, the Summit League has made it clear it wishes to remain at 10 teams for the time being when St. Thomas arrives in 2021.
Division 2, Division 3, and NAIA Options
While not the desire for Chicago State's leadership, this is a realistic possibility given the university's struggles in the top division. Dropping down to Division 2 means the university can have a smaller athletic budget and offer less athletic aid. A drop to Division 3 means they wouldn't (or be allowed to) have any athletic aid. Both options may also see more competitive teams in addition to a better geographical fit, which will reduce travel costs. Whether dropping to Division 2 or Division 3, the school will go into a 3-year reclassification process before becoming a full member of the selected division. Schools can seek a waiver to potentially shorten the time frame although petitioning the NCAA for any waiver is akin to playing darts blindfolded.
According to a survey posted on Chicago State's athletic site, the university spent nearly $8 million on its athletic programs in 2019-20 while also reporting an equal amount in revenues. Division 2 non-football members had an average revenue of roughly $6 million as of 2019 with expenses averaging $6.4 million for the same group. Division 3 non-football programs had an average revenue of approximately $3 million in 2019 against average expenses of $3 million.
The athletic budget for Chicago State is more in line with the Division 2 level than the Division 1 level with about $20 million for revenues and expenses for non-football playing members in the NCAA's top division. The chart below provides a visual summary of how Chicago State's athletic budget stacks up in each of the NCAA's three divisions when only looking at non-football programs.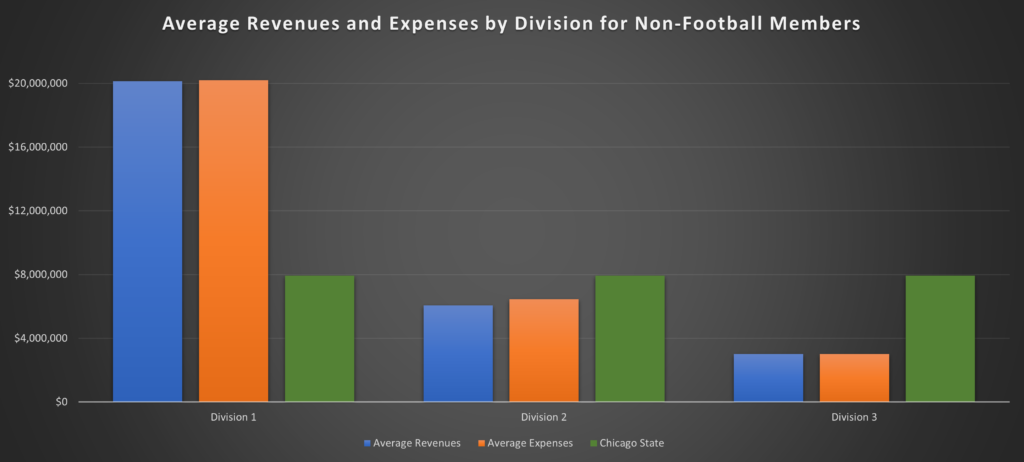 The best option at the D2 level would be the Great Lakes Valley Conference, which is made up of schools from Illinois, Indiana, and Missouri. The conference uses a divisional system for the sports Chicago State sponsors including baseball, basketball, tennis, and volleyball, which will help for travel purposes. One caveat is that the GLVC considers baseball and softball 'core' sports and members must field a team. This would mean baseball would have to be brought back to Chicago State and a softball team would also be needed. The university would be required to pay a $100,000 fee as a new member over two years in addition to the normal dues. Chicago State would also be required to participate in all GLVC championships for all sports offered by the school. Finally, there would also be a $33,000 reclassification fee for moving down to D2.
Two additional positives are that the enrollment size of Chicago State would be in line with other members (only the 5th smallest enrollment) and the conference has both public and private institutions among its membership. Below is a map of the GLVC with Chicago State in teal and current members in blue.
Division 3 Conferences
If Chicago State dropped to the division 3 level, they could look at potentially joining numerous conferences including the Heartland Collegiate Athletic Conference, College Conference of Illinois and Wisconsin, Midwest Conference, Northern Athletics Collegiate Conference, or the Saint Louis Intercollegiate Athletic Conference. A move to the Division 3 level would require an annual membership fee paid to the NCAA for $2,000 per year as well as a one-time reclassification fee of $39,000. (The annual dues are actually higher in D3 than the D1 fee of $1,800 due to the sheer number of teams at the D3 level and the need to help subsidize the division's championships).
The biggest issue facing Chicago State regardless of the potential conference is the fact that CSU is a public institution and all the conferences mentioned above have memberships made up of entirely private schools. That very well may be a deal-breaker for conferences to consider Chicago State. For the purposes of this exercise, we'll consider geographic fit before the institutional membership profile. That will narrow down the potential conferences to the CCIW, MWC, NACC, and SLIAC. We'll look at each one below in alphabetical order.
CCIW
The CCIW would be a solid landing spot for Chicago State based on location. They would be the 10th member as shown in the map below with CSU in teal and the current members in blue. All sports offered by Chicago State are sponsored by the CCIW and its enrollment would be one of the higher amounts.
While actual membership dues are difficult to ascertain, the most recent tax filing for CCIW ending in June 2019 showed membership dues and assessment revenues totaling $284,700. Divided by the nine-member schools, this comes out to roughly $32,000 per year but this amount may be lower as other revenue sources could also be included. This amount would be on top of the Division 3 annual membership dues of $2,000 and the one-time $39,000 reclassification fee.
Midwest Conference
If Chicago State joined the Midwest Conference, they would become the 10th member. Current member St. Norbert is leaving the MWC after the 2020-21 season for the NACC. The map below shows Chicago State in teal, departing St. Norbert in yellow, and the remaining members in blue. Chicago State would have the highest enrollment and all sports offered by CSU are sponsored by the MWC. Using a method similar to the one presented in the CCIW section, membership dues in the MWC would be $23,000 at most (though possibly lower) per the most recent tax filing. There is also the $39,000 D3 reclassification fee and $2,000 for annual dues.
NACC
The Northern Athletics Collegiate Conference is made up of 6 teams from Illinois and 7 teams from Wisconsin. St. Norbert will become the 14th member of the conference starting in the 2021-22 season. Alverno College – located in Milwaukee, Wisconsin – is a women's-only only college. The map below shows Chicago State in teal, Alverno College in orange, future member St. Norbert in yellow, and the other members in blue.
The NACC uses a North/South divisional format in most sports with Wisconsin teams in the north and Illinois teams in the south. Chicago State joining the conference would make them the 15th member overall and 14th men's program. They would certainly fit from a geographical standpoint and would have the second-highest enrollment. The average dues paid by NACC members was roughly $23,000 per the most recent tax filing. The additional one-time $39,000 reclassification fee and annual dues of $2,000 would be on top of any conference dues.
SLIAC
A move to the SLIAC would make Chicago State the 9th member, effectively replacing Iowa Wesleyan who is leaving after the 2020-21 season. The SLIAC sponsors all sports offered by Chicago State and the Cougars would have the third-highest enrollment. The geography is not as ideal as the other conferences but the conference has lost one college – MacMurray College in Illinois – and will lose the aforementioned Iowa Wesleyan in 2021. They may be interested if they are worried about other schools leaving or closing.
Membership dues came out to $23,000 per institution according to the most recent tax filing for the SLIAC. As with the other D3 options, the annual $2,000 in dues and the one-time $39,000 for reclassification also would be required for Chicago State.
NAIA
The NAIA was briefly mentioned in Chicago State's conference history and the option offered below is all too familiar. It would be the Chicagoland Collegiate Athletic Conference, which they left to join Division 1 back in the mid-1980s. Institutions can offer financial aid at lower limits than in the NCAA's Division II, which helps lower the cost burden. For example, NAIA basketball programs can offer up to 8 full scholarships in any allocation they wish. The membership dues for NAIA are modest at around $20,000 before conference costs are factored in.
Chicago State would become the 16th full member of the CCAC, which has both public and private universities. The conference sponsors all sports offered by Chicago State and the enrollment size would be middle of the pack. The map below shows the CCAC with Chicago State in teal and the current members in blue.
Summary
The numerous scenarios outlined above show exactly how difficult of a decision Chicago State will have to make regarding its future. They're a tough sell to prospective Division 1 conferences due to poor athletic teams, financial issues, and a non-traditional student population. The option to be an independent program remains although doubts about the long-term viability of such a move will be ever-present. Dropping to a lower division will allow them to ease the athletic budget burden and put more resources into academics and institutional priorities. At the same time, athletic competitiveness should improve while a balance is achieved between athletics and academics.
There are several good options at lower levels for Chicago State if they are unable to find a long-term Division I home. The GLVC in Division 2 and CCAC in the NAIA would suit Chicago State better in terms of geography and institutional fit. Division 3 will be a tougher sell as conferences tend to be made up of strong academic and private schools while Chicago State is a public institution and has struggled with graduation rates (currently below 20%).
The table below summarizes the different options and potential costs of each conference detailed in the preceding paragraphs. Please note that information for some of the conference costs was not available, thus secondary sources were used to provide estimates. Any amounts listed should be viewed as rough approximations and may change as the conferences see fit and realignment causes further reverberations.
| Conference (Division) | Annual Division Dues | Reclassification Fee | Conference Membership Fee |
| --- | --- | --- | --- |
| Horizon League (D1) | $1,800 | N/A | $1.15 million |
| Independent (D1) | $1,800 | N/A | N/A |
| MEAC (D1) | $1,800 | N/A | $250,000 |
| Summit League (D1) | $1,800 | N/A | $250,000 |
| GLVC (D2) | $900 | $33,000 | $100,000 |
| CCIW (D3) | $2,000 | $39,000 | $32,000 (Est.) |
| Midwest (D3) | $2,000 | $39,000 | $23,000 (Est.) |
| NACC (D3) | $2,000 | $39,000 | $23,000 (Est.) |
| SLIAC (D3) | $2,000 | $39,000 | $23,000 (Est.) |
| CCAC (NAIA) | $8,300 | $10,000 | $11,600 |
Final Thoughts
Ultimately, it comes down to how fixated Chicago State is on staying in Division 1. The last 10 years on the court and playing fields have shown it is a tall task to be competitive if the status quo remains. Dropping down from Division 1 will help bring stability in sports but can also help them focus on improving academically while not ruling out a potential return to Division 1 in the future. Division 1 independent status also remains an option for Chicago State but the questions become how viable is that path and how long can Chicago State sustain it?
Photo courtesy of Chicago State University