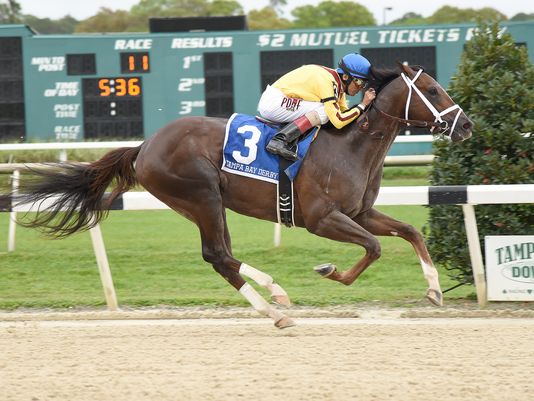 Carpe Diem Has No Trouble In Tampa Bay Derby
Despite not racing for over 4 months, Carpe Diem did not appear to miss a beat winning the Grade 2 Tampa Bay Derby. He is now in great position to make the Kentucky Derby the first Saturday in May.
Divining Rod took control of the race from the rail with My Johnny Be Good pressuring him from the outside. Moonlight Bandit was close in third while Carpe Diem was fourth about 2 lengths off the lead. Second choice Ocean Knight was in fifth, Danzig Moon was in sixth, Ami's Flatter was in seventh, and Great Stuff was trailing in eighth.
Divining Rod continued to lead on the back stretch and into the far turn while My Johnny Be Good started to throw in the towel. Carpe Diem was still right behind the leader and began making his move. Ami's Flatter was into fourth, Ocean Knight was struggling in fifth, Danzig Moon was in sixth, Great Stuff was up to seventh, and Moonlight Bandit was in last.
As they hit the stretch, Carpe Diem was well on his way to victory opening up 2 lengths by the stretch call. Divining Rod was back in second and Ami's Flatter was third. It would be an easy romp home for Carpe Diem as he won by 5 lengths over Ami's Flatter and Divining Rod in third. Danzig Moon was in fourth by 12 1/2 lengths.
The remaining order of finish was Great Stuff in fifth, Moonlight Bandit in sixth, Ocean Knight in seventh, and My Johnny Be Good in last. Souper Colossal scratched prior to the race. The Equibase chart can be found here.
Carpe Diem was ridden by John Velazquez and is trained by Todd Pletcher. Carpe Diem is by Giant's Causeway out of the Unbridled's Song mare Rebridled Dreams. He ran the one mile and one sixteenth in 1:43.60 while paying $4.00 as the even-money favorite.
For the win, Carpe Diem received 50 points for the win to bring his total to 64 points towards the Kentucky Derby Points Leaderboard. He sits in fourth place after the three Road to the Kentucky Derby races on Saturday.
Ami's Flatter earned his first 20 points while Divining Rod earned his first 10 points. Toasting Master also earned his first 5 points towards the Kentucky Derby.
The next Kentucky Derby Prep race is the Rebel Stakes on Saturday, March 14 at Oaklawn Park.