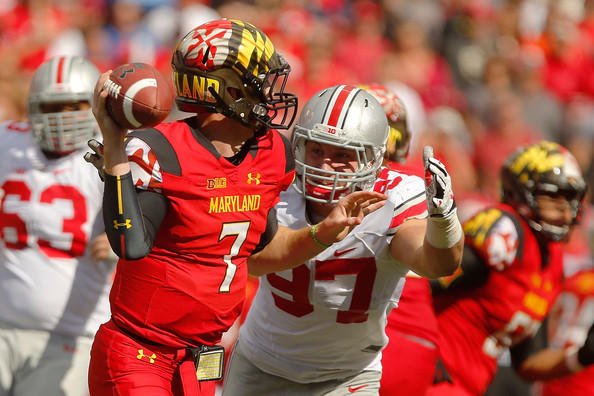 8 Terrapins Granted Medical Hardship
A total of eight Maryland Terrapins have been granted a medical hardship according to head coach Randy Edsall on Wednesday. The Washington Post listed the following players:
Quarterback Caleb Rowe (ACL), defensive back Daniel Ezeagwu (knee), defensive back Alvin Hill (knee), tight end Andrew Isaacs (knee), defensive lineman Quinton Jefferson (knee), wide receiver Taivon Jacobs (knee), running back Albert Reid (knee), and linebacker Cavon Walker (foot).
Rowe played in the first four games of the season before injuring his ACL. He went 34 of 54 (63%) for 489 yards with 5 touchdowns and 4 interceptions. He is expected to be the starter in place of C.J. Brown who graduated. Brown started all 13 games going 189 of 354 (53.4%) for 2,288 yards with 13 touchdowns and 10 interceptions.
Hill started the first four games of 2014 while recording 13 tackles and picking off one pass. Isaacs started three of the first four but only recorded 2 catches for 3 yards. Jefferson started the first three games en route to recording 8 tackles and a sack. Jefferson also started all 13 games in 2013, which makes his return a boost for the defensive line.
Reid played in four games in 2014 making one start. He had 61 yards and a touchdown on 16 carries. Walker played in only 2 games in 2014 recording 6 tackles, but was a special teams player in 2013 playing in all 13 games.