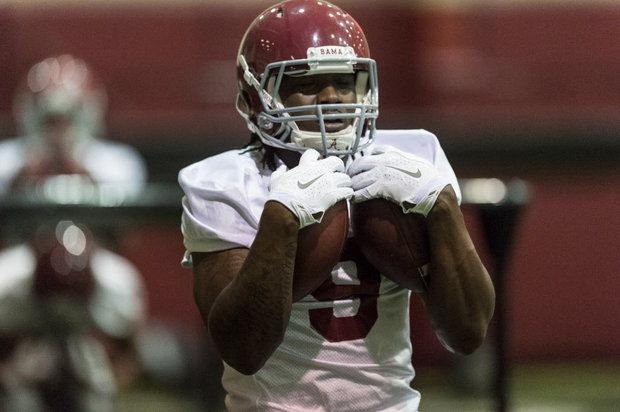 Bo Scarbrough Injures Knee
The offseason of trouble will not surrender for Alabama. On Friday, it was announced that running back Bo Scarbrough injured his knee, but the severity is not yet known. Scarbrough was hurt late in practice on Friday.
Head coach Nick Saban told al.com, "You've got to take MRIs and do all those things, so I don't speculate on these kind of injuries. We'll see, and we'll let you know when we find out."
"Bo was doing pretty well," Saban said Friday. "But we've had a lot of injuries, suspensions, and lost some people at that position. So what seemed like a pretty strong position depth-wise has gotten a little thin."
Scarbrough was expected to have a big role in Alabama's running game in 2015. He was a member of the 2014 recruiting class, but did not enroll until January of this year.
Scarbrough has seen his share of injuries when he was in high school. According to Trey Burkhalter on Twitter, "[Scarbrough] broke his ankle freshman year, tore his ACL sophomore year, and had a high ankle sprain his junior year. They were all season ending injuries."
Scarbrough's injury leaves some sudden depth issues for Alabama at the running back position. Altee Tenpenny transferred at the end of last season and Tyren Jones was suspended and dismissed earlier this week.
Alabama does return Derrick Henry and Kenyan Drake. Henry was the top rusher with 990 yards and 11 touchdowns while Drake 112 yards and 4 touchdowns.