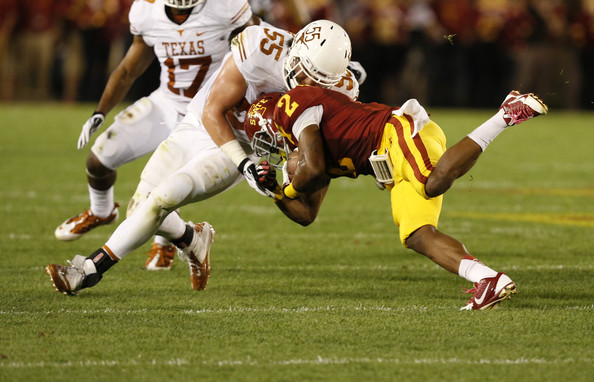 Dalton Santos Injures Ankle
The Texas Longhorns continue to have bad luck on the injury front. Linebacker Dalton Santos suffered an ankle injury on Friday in practice. The extent of the injury is not known at this time.
Santos, a senior in 2015, was expected to be the starter at middle linebacker. He played in 10 games last season, starting 1, and recorded 12 tackles. He was a more integral part of the defense in 2013 when he played in 13 games and started 7 while recording 74 tackles, 10 tackles-for-loss, and recovered a fumble.
In 2012, he played in all 13 games and started one of those contests. He finished with 26 tackles and 3 tackles-for-loss. He made a big impact on special teams with 10 tackles in 2012.
Santos' injury comes after the news that Sheroid Evans hurt his knee in practice earlier this week. Both players were expected to see significant amounts of playing time this season.
With Santos out, junior linebacker Timothy Cole is expected to see more reps. Cole has appeared in 20 games over the past two season with 1 start and has recorded 20 tackles.