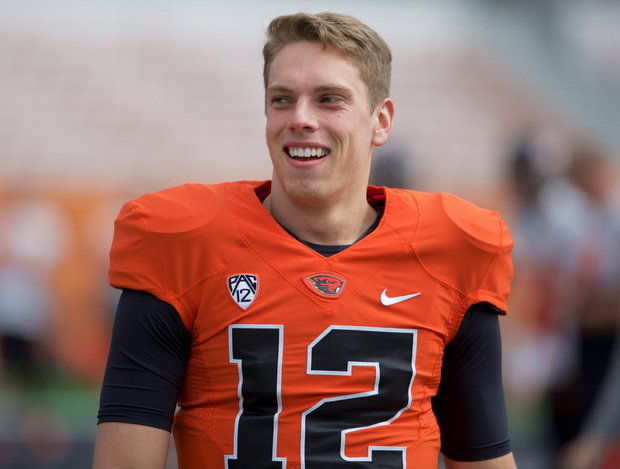 Luke Del Rio To Transfer From Oregon State
Oregon State quarterback Luke Del Rio will be transferring from the program to another school, according to Gina Mizell of The Oregonian. There is no indication which school he will be transferring to at this time.
"I want to thank Coach Andersen for the opportunity and wish all of my former teammates the best of luck this season and in the future," Del Rio said in a release.
From The Oregonian, "Del Rio, who was Sean Mannion's backup last season, was one of three contenders for the Beavers' starting quarterback job this spring. But after splitting first-team reps with true freshman Seth Collins during Saturday's scrimmage work, Del Rio took snaps with the second team during Tuesday's workout."
Del Rio, son of Oakland Raiders head coach Jack Del Rio, spent the 2014 season with the Oregon State Beavers. He transferred from Alabama to Oregon State in January 2014 and was granted immediate eligibility by the NCAA because he was considered a "non-recruited athlete" at Alabama.
Del Rio served as the backup to Sean Mannion. He went 8 of 18 for 141 yards in 3 games played. His absence leaves the Beavers with no quarterbacks who have thrown a pass in college.
If Del Rio transfers to another FBS school, he will be required to sit out the 2015 season. If he transfer to a lower division school, he will be eligible immediately.
True freshman Seth Collins, redshirt freshman Nick Mitchell, and fellow redshirt freshman Marcus McMaryion are the three quarterbacks who will battle to replace Mannion.