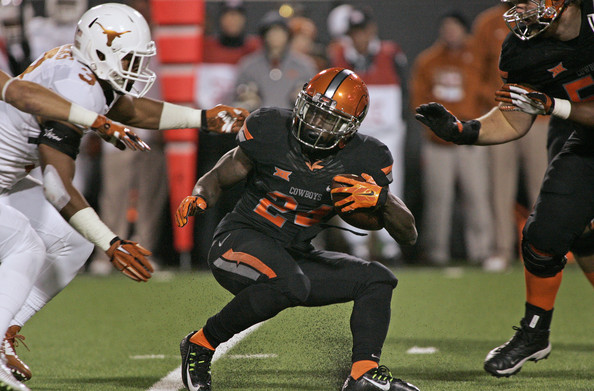 Tyreek Hill Heading To Akron
Former Oklahoma State player Tyreek Hill will be playing for the Akron Zips, according to Hill's Twitter account. Hill led the Cowboys in all-purpose yardage in 2014 with 1,811 yards.
Hill spent the 2014 season at Oklahoma State and was utilized in a number of different capacities. As a running back, he was second on the team with 534 yards rushing on 102 carries while also scoring one touchdown.
He also had 31 catches for 281 yards and a touchdown, but was also used on both kick and punt returns. He returned 27 punts for 256 yards (9.5 average) and a touchdown. On kickoffs, he had an average of 24.7 yards per return and 2 touchdowns (3o returns for 740 yards).
Hill was named the Big 12 Offensive Newcomer of the Year for his efforts. Hill was dismissed from Oklahoma State on December 12 after being arrested and charged with a felony complaint of domestic violence.
At the time, Oklahoma State released the following statement: "Oklahoma State University does not tolerate domestic abuse or violence. Based on the evidence and the serious allegations that have been made, Head Football Coach Mike Gundy has announced that Tyreek Hill has been dismissed from the OSU football team. He also has been dismissed from the track team. The allegations are under investigation by Stillwater Police and by the OSU Office of Student Conduct. Those processes will proceed independently."
Hill played at Garden City Community College in 2013 prior to transferring to Oklahoma State.