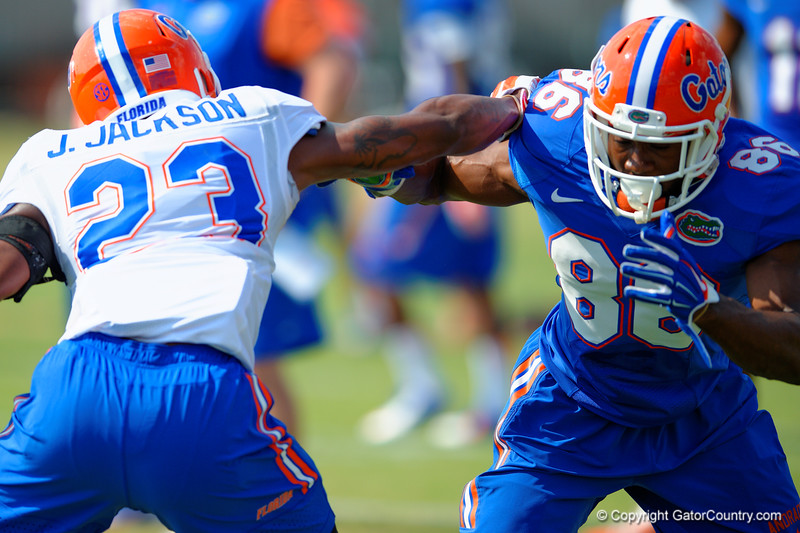 Florida DB JC Jackson Arrested For Armed Robbery
Florida Gator defensive back J.C. Jackson was arrested and charged with armed robbery on Saturday in alleged incident that happened earlier in the day.
According to the Orlando Sentinel, "Jackson entered the apartment of an acquaintance with two other men a little before 4 p.m. Saturday. Jackson then quickly left, the report stated, while the two other men pulled out a handgun and pointed it at the resident and two visitors.
The two male suspects made the victims get on the floor and removed their pockets. One of the suspects pressed a gun to the face of one of the victim's while demanding to know where he kept his marijuana and money.
The suspects left with $382, marijuana and two video gaming consoles, the report states, and were seen leaving in a red "Nissan" type car."
Jackson turned himself into police on Saturday at the Alachua County Sheriff's Office where he is currently being held on a $150,000 bond. The other two suspects are still at large.
Florida head coach Jim McElwain released the following statement, "We are aware of the news involving JC Jackson and he is currently dealing with a serious issue. We don't condone any of his actions and it is not something that reflects on the expectations we have in the program. It is being handled accordingly due to the severity of his actions."
Jackson ultimately redshirted in 2014 after suffering a shoulder injury in the opener. He was expected to be a starter going into the 2015 season, or at least seeing a heavy dose of playing time.