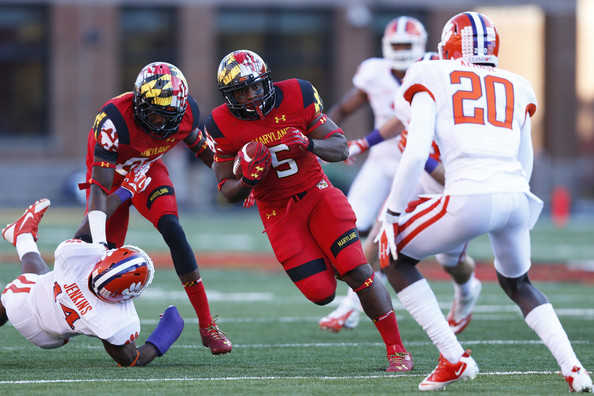 Two Maryland Terrapins Transferring
Seniors Zach Dancel and Albert Reid have decided that they will transfer from Maryland and play the 2015 season at a new school.
Dancel is expected to graduate in May with Reid graduating in the summer. Assuming they both meet their graduation requirements, neither player will have to sit out for the 2015 season and will be eligible to play immediately at their new school.
Dancel, a safety for the Terrapins, started his career at New Mexico in 2011 and played in 9 games, starting 8 of those contests. He finished the season with 32 tackles and an interception.
After redshirting in 2012 to satisfy NCAA transfer requirements, he played in 12 games during the 2013 season finishing with 11 tackles. In 2014, Dancel played in 10 games, started one, recorded 15 tackles, 1 tackle for loss, and 2 passes defended.
Reid, a running back, was part of the 2012 recruiting class. During the 2012 season, Reid ran for 92 yards on 36 carries, caught 3 passes for 16 yards, and returned 2 kickoffs for 42 yards while playing in a limited role.
Reid played far more often in 2013 where he ran for 294 yards and 2 touchdowns on 70 carries as the team's third leading rusher. He also recorded 6 catches for 62 yards and 1 touchdown along with 2 kickoff returns for 49 yards.
2014 saw Reid fall back down the depth chart with only 16 carries for 61 yards and a touchdown in 4 games of action. He also caught 6 passes for 51 yards. Reid was granted a medical hardship waiver earlier in April.