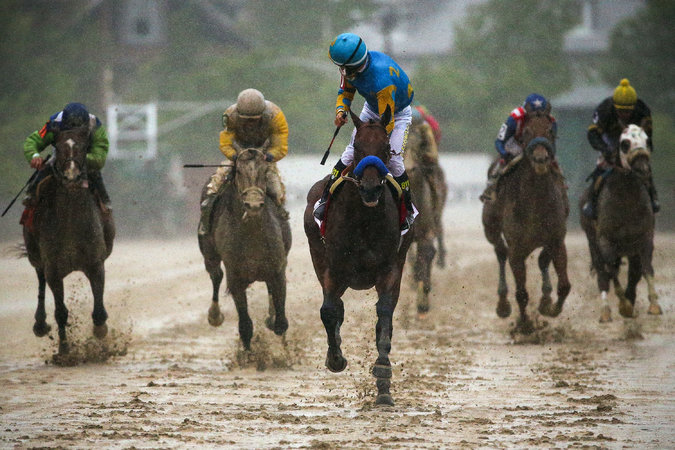 American Pharoah Wins Preakness Easily In The Slop
A torrential downpour that began about 15 minutes prior to the start of the Preakness Stakes did not matter. In fact, it probably helped the Kentucky Derby winner American Pharoah dominate his foes by 7 lengths in a gate-to-wire performance.
The race began with American Pharoah hustled to the lead by jockey Victor Espinoza. Mr. Z was also gunned to the lead while Dortmund settled in third about 5 lengths off the lead. Divining Rod was fourth, Bodhisattva as fifth, and Firing Line was sixth. Danzig Moon sat in seventh early on,about 9 lengths off the lead while Tale of Verve was nearly 15 lengths off the leader in last.
American Pharoah was not relinquishing that lead as he led the field through an opening quarter mile in 22.90 and an opening half mile in 46.49. He was still being tracked by Mr. Z and Dortmund was moved outside to track from third. Divining Rod sat fourth, Firing Line was up to fifth, Bodhisattva was sixth, Danzig Moon was seventh, and Tale of Verve was last of eight.
Entering the far turn, Mr. Z, Dortmund, and Divining Rod all began to make their moves, but American Pharoah was having none of that as he began to pull away when the straightened out in the stretch.
It was clear that no one was going to catch him at that point and he would end up winning by 7 lengths. Longshot Tale of Verve rallied to be second over Divining Rod in third and Dortmund held on for fourth place.
The remaining order of finish was Mr. Z, Danzig Moon, Firing Line, and Bodhisattva. The official chart can be found here courtesy of Equibase.
American Pharoah went off as the 4-5 favorite and paid $3.80 to win, $3.40 to place, and $2.80 to show. He ran the one mile and three sixteenths in 1:58.46 over a very sloppy race track. He also won $900,000 as the winner's share of the $1.5 million purse.
He is trained by Bob Baffert who will be making his fourth attempt at winning the Triple Crown. He previously failed to win it with Silver Charm in 1997, Real Quiet in 1998, and War Emblem in 2002.
Jockey Victor Espinoza was aboard for War Emblem's failed Triple Crown attempt in 2002 and he was also aboard for California Chrome's failed attempt in 2014.
https://www.youtube.com/watch?v=9yqKZBSYTAY
American Pharoah will try to become the first horse to win the Triple Crown since Affirmed in 1978. Thirteen horses have won the Kentucky Derby and Preakness Stakes, but failed to win the Belmont Stakes. One horse, I'll Have Another, did not race due to a foot injury discovered the day before the Belmont.
The Belmont will be run at one and a half miles on Saturday, June 6. It is called "The Test of a Champion" due to the taxing nature of a race at 12 furlongs. If American Pharoah does win the Belmont Stakes, he will be the 12th Triple Crown winner in history.