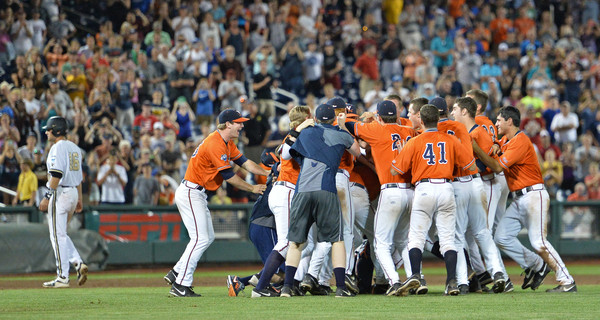 2016 NCAA Division 1 Baseball Conference Tournaments
The 2016 NCAA Division 1 baseball season is closing in on the postseason with the pivotal conference tournaments offering a final chance to make the final field of 64. There are 31 automatic bids handed out for the NCAA Tournament with only three going to regular season champions. Those three conferences are the Big West, Ivy League, and Pac-12 with the Ivy League two playing a best of 3 series to determine their champion.
The regular season champion is included below for each conference. The Horizon League has the regular season champion host the tournament while the Patriot League has the higher seeded team host the Championship Series.  In all, there are 31 automatic bids handed out while another 33 at-large bids will be determined by the Baseball Selection Committee.
Conference
Regular Season Champ
Tournament Champ
Dates
Location
Host
American East
Binghamton
Binghamton
May 25 - 28
Lowell, Massachusetts
UMass Lowell
American
Tulane
Connecticut
May 24 - 29
Clearwater, Florida
Neutral Site
ACC
Miami (FL)
Clemson
May 24 - 29
Durham, North Carolina
Duke
Atlantic 10
Rhode Island
Rhode Island
May 25 - 28
Bronx, New York
Fordham
Atlantic Sun
Kennesaw State
Stetson
May 24 - 28
Nashville, Tennessee
Lipscomb
Big 12
Texas Tech
TCU
May 25 - 29
Oklahoma City, Oklahoma
Neutral Site
Big East
Xavier
Xavier
May 26 - 29
Aberdeen, Maryland
Neutral Site
Big South
Coastal Carolina
Coastal Carolina
May 24 - 28
Lexington, South Carolina
Neutral Site
Big Ten
Minnesota
Ohio State
May 25 - 29
Omaha, Nebraska
Neutral Site
Big West
Cal State Fullerton
No Post Season Tournament
Colonial
UNC Wilmington
William & Mary
May 25 - 29
Mount Pleasant, South Carolina
College of Charleston
C-USA
Florida Atlantic
Southern Miss
May 25 - 29
Hattiesburg, Mississippi
Southern Mississippi
Horizon
Wright State*
Wright State
May 25 - 28
Fairborn, Ohio
Wright State
Ivy Leauge
Lou Gehrig: Princeton
Red Rolfe: Yale
Princeton
May 14 - 15
Princeton, New Jersey
Princeton
Metro Atlantic
Fairfield
Fairfield
May 25 - 28
Wappingers Falls, New York
Manhattan
Mid-American
Kent State
Western Michigan
May 25 - 29
Avon, Ohio
Neutral Site
Mid-Eastern
North: Norfolk State
South: Florida A&M
Bethune-Cookman
May 19 - 22
Salisbury, New York
Maryland Eastern Shore
Missouri Valley
Dallas Baptist
Dallas Baptist
May 25 - 28
Terre Haute, Indiana
Indiana State
Mountain West
Fresno State
New Mexico
May 25 - 29
Albuquerque, New Mexico
New Mexico
Northeast
Bryant
Bryant
May 26 - 29
Norwich, Connecticut
Neutral Site
Ohio Valley
Southeast Missouri State
Southeast Missouri State
May 25 - 29
Jackson, Tennessee
Neutral Site
Pac-12
Utah
No Post Season Tournament
Patriot
Navy*
Navy
May 14 - 15 &
May 20 - 22
Annapolis, Maryland
Navy
SEC
Mississippi State
Texas A&M
May 24 - 29
Hoover, Alabama
Neutral Site
Southern
Mercer
Western Carolina
May 24 - 29
Greenville, South Carolina
Neutral Site
Southland
Sam Houston State
Sam Houston State
May 25 - 29
Sugar Land, Texas
Neutral Site
SWAC
Alabama State
Alabama State
May 18 - 22
New Orleans, Louisiana
Neutral Site
Summit
Oral Roberts
Oral Roberts
May 25 - 28
Tulsa, Oklahoma
Oral Roberts
Sun Belt
Louisiana Lafayette
Louisiana Lafayette
May 25 - 29
San Marcos, Texas
Texas State
WAC
Seattle University
Utah Valley
May 26 - 28
Stockton, California
Neutral Site
West Coast
BYU
Gonzaga
Saint Mary's
Saint Mary's
May 25 - 28
Mesa, Arizona
Neutral Site
* Denotes Highest Seed Hosts Conference Tournament or Final Series
There have already been two champions decided as Princeton who came back from a 1-0 deficit in the Ivy League Championship series to clinch their postseason berth while Alabama State won the SWAC tournament.
As the conference tournament champions are known, the table above will be filled out. The conference tournaments listed above will help determine the field for the 2016 NCAA Division 1 Baseball tournament. We will find out which teams made the tournament on Monday, May 30, 2016 at 12 PM Eastern Time on ESPNU with the Selection Show.
Regional action will commence on Friday, June 3 and end on Monday, June 6 with 16 regionals at designated sites determined by the Selection Committee under a double-elimination format. The 16 regional winners will then play in the Super Regional round from June 10 through June 12 in a best of three series. The Super Regional hosts will be determined after the Regional round.
The tournament wraps up in Omaha, Nebraska with the 8 Super Regional winners advancing to College World Series. The CWS will take place from Saturday, June 18 through Wednesday, June 29. The two teams that remain standing will take place in the CWS Championship Series, which is a best of three.