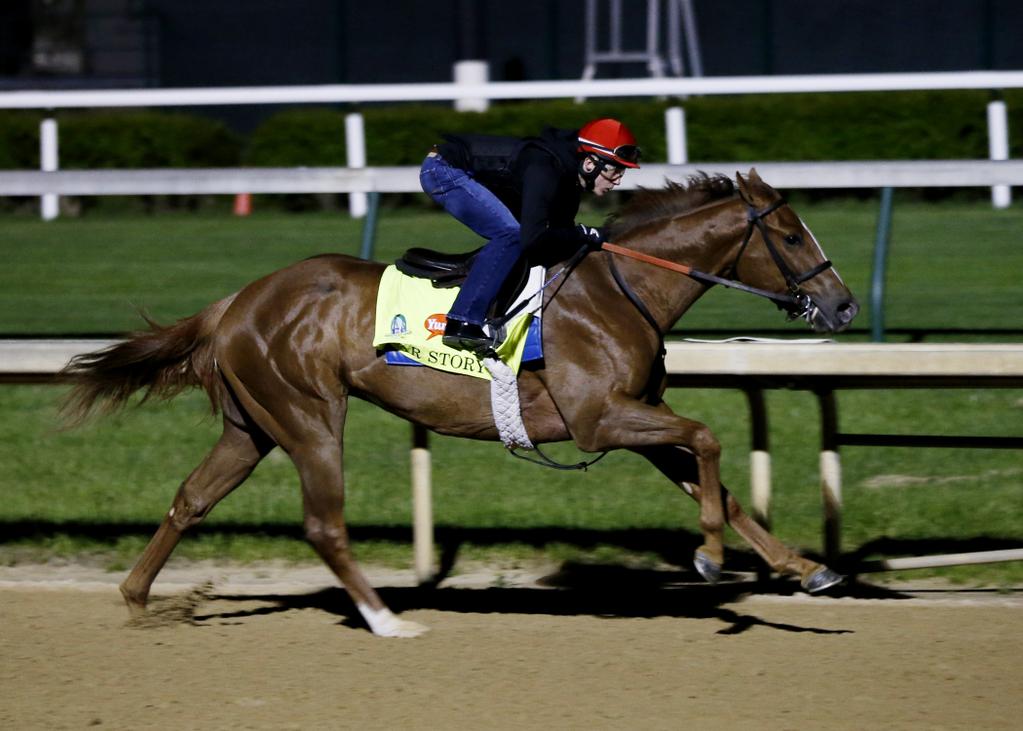 Kentucky Derby News For April 22, 2015
Two Kentucky Derby entrants worked out on Wednesday morning in War Story and Mr Z. War Story went out very early while Mr. Z waited until after the renovation break to workout. Both horses went five furlongs for their workouts.
War Story worked at 5:45 in the morning completing the five furlongs in 1:01.60. The internal fractions were :24.60 and :36.40 with him being clocked at 1:15.60 for six furlongs on the gallop out. Dylan Davis was aboard for the work for trainer Tom Amoss.
Mr. Z completed his five furlongs in 1:01 with his internal fractions going in :12.80, :25, :37, and :48.60. He galloped out 6 furlongs in 1:15.60 and was clocked with a final quarter of :24.20. Edvin Vargas was the rider for Mr. Z during the work for trainer D. Wayne Lukas.
At Santa Anita, Ocho Ocho Ocho went six furlongs from the gate. He completed the move in 1:13.60 for trainer Jim Cassidy. His rider is unconfirmed for the Kentucky Derby, but it will either be Elvis Trujillo or Santiago Gonzalez. Ocho Ocho Ocho will be in Kentucky on Friday and work at Churchill next Wednesday.
No other Kentucky Derby horses had a work, but plenty made an appearance on the track.
American Pharoah and Danzig Moon both galloped a mile and a half after the renovation break. American Pharoah is expected to workout on Sunday while Danzig Moon will most likely work on Saturday.
Bold Conquest galloped after the break as well. He worked on Monday, going five furlongs in 1:02.60.
Far Right jogged two miles and is scheduled to work over the weekend. Which day he works will depend on the weather, according to his trainer Ron Moquett.
International Star galloped a mile and a quarter as did Tencendur. Tencendur is expected to work on Saturday morning if all goes well with the weather.
Todd Pletcher's four horses of Itsaknockout, Madefromlucky, Materiality, and Stanford all galloped a mile and a quarter on Wednesday morning. All four are expected to workout on Saturday.
Meanwhile, Carpe Diem galloped a mile and a half on Wednesday and will work out at Keeneland on Sunday morning.
Keen Ice galloped a mile after the renovation break.
Away from Churchill Downs, Mubtaahij went a lap around the Arlington Park polytrack on Wednesday morning after his three furlong workout on Tuesday. Upstart went two miles at Palm Meadows in Florida and he will work over the weekend down there.
Kentucky Oaks News
There were not workers for the Kentucky Oaks on Wednesday morning. Angela Renee and Eskenformoney both galloped a mile and a quarter for trainer Todd Pletcher.
Birdatthewire galloped a mile, Condo Commando galloped a mile and an eighth, while Shook Up also galloped over the track.
Forever Unbridled, Include Betty, Luminance, Oceanwave, and Puca all galloped a mile and a half over the track. Forever Unbridled will work on Friday morning while Puca is scheduled for a workout on Saturday.
Maybellene walked the shedrow after her four furlong workout on Tuesday.